Kamisama Kiss: Volume 17 manga review
By Leroy Douresseaux
February 27, 2015 - 21:31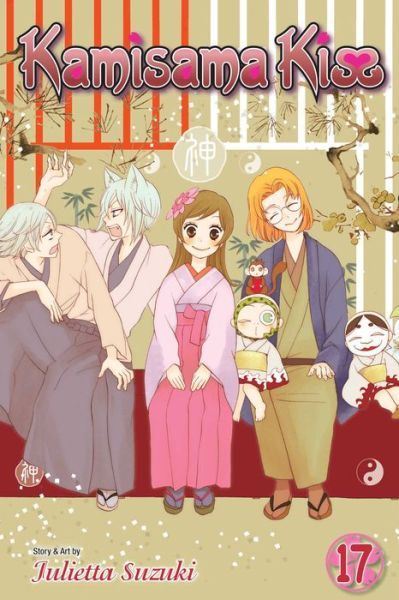 Kamisama Kiss Volume 17 cover image is courtesy of barnesandnoble.com.
Follow me on
Twitter
.
Rated "T" for "Teen"
High school student
Nanami Momozono
was kicked out of the apartment she shared with her father, who left town to avoid his gambling debts. Then, Nanami saved a strange man named
Mikage
, so he generously offered her his home. Nanami later discovered that Mikage had tricked her into taking his job as the tochigami (local god) of the
Mikage Shrine
. To make matters worse, her head shinshi (or familiar) was
Tomoe
, a fox
yokai
who keeps Nanami from enjoying her youth.
After Tomoe falls into a coma, Nanami travels back in time to search for clues to the curse that made Tomoe ill. As
Kamisama Kiss

, Vol. 17
(Chapters 96 to 101) opens, Nanami meets
Kuromaro
, the fallen kami that lives on
Mount Ontake
and who is said to have the kind of power that can help Tomoe.
The great yokai,
Akura-oh
, attacks the manor where Nanami's friend,
Yukiji
, lives with her husband, a feudal lord. Tomoe comes to Yukiji's aid, but her failing health is complicated by her pregnancy. Meanwhile, Nanami has discovered the nature of the curse on Tomoe and why it was cast in the first place. As her time-turn (time travel) nears its end, she discovers something about her past that is shocking and amazing.
THE LOWDOWN:
The
Kamisama Kiss
manga is quite imaginative, but the focus is not always on eye-popping creations. With
Kamisama Kiss Volume 17
, creator
Julietta Suzuki
offers some dazzling reveals about her characters, their pasts, and their connections. Vol. 17 is a poignant story, filled with violence that will anger the reader, but also with love that will lift the reader's heart. Where will
Kamisama Kiss
go next now that love is finally found?
POSSIBLE AUDIENCE:
Fans of fantasy and yokai-themed manga will like the Shojo Beat title,
Kamisama Kiss
.
Rating: A /10
Last Updated: January 24, 2022 - 11:00