Kamisama Kiss: Volume 16 manga review
By Leroy Douresseaux
October 8, 2014 - 21:22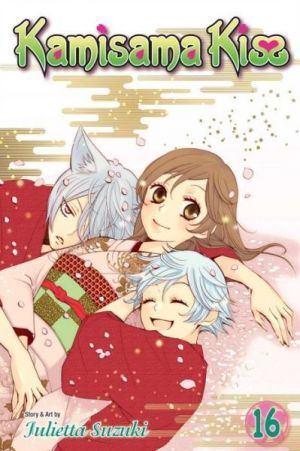 Kamisama Kiss Volume 16 cover image is courtesy of barnesandnoble.com.
Follow me on
Twitter
.
Rated "T" for "Teen"
Her father leaves town to avoid his gambling debts. Then, high school student Nanami Momozono is kicked out of their apartment. Later, Nanami saves a strange man named Mikage, so he generously offers her his home. Nanami later discovers that Mikage has tricked her into taking his job as the tochigami (local god) of the Mikage Shrine. To make matters worse, her shinshi (or familiar) is Tomoe, a fox yokai who keeps Nanami from enjoying her youth.
After Tomoe falls into a coma, Nanami travels back in time to search for clues to the curse that made Tomoe ill. As
Kamisama Kiss

, Vol. 16
(Chapters 90 to 95) opens, Nanami continues her search for Kuromaro, a fallen kami that lives on Mount Ontake and who is said to have the kind of power that can help Tomoe.
She is reunited with Yukiji, a woman with a connection to Tomoe and who is also about to be married. The great yokai, Akura-oh, is the "rampage companion" to Tomoe, and is angered that Yukiji is connected to him, so he marks the woman for death. Now, Nanami has a plan to save her new friend, but it will put her life in danger.
[This volume contains a bonus story.]
THE LOWDOWN:
The
Kamisama Kiss
manga is quite imaginative. Creator
Julietta Suzuki
, in almost every story arc, offers some strange new place or weird and wonderful new creature, being, or person to dazzle readers.
With
Kamisama Kiss Volume 16
, however, Suzuki focuses on jealousy and revenge and loyalty and sacrifice. The chapters herein reveal the joyous light and dangerously dark sides of passion and desire. Friendship becomes possession, but it can also become sacrifice and dedication. Vol. 16 is a fresh turn towards the character drama that Kamisama Kiss occasionally needs.
POSSIBLE AUDIENCE:
Fans of fantasy and yokai-themed manga will like the Shojo Beat title,
Kamisama Kiss
.
Last Updated: January 24, 2022 - 11:00