Kamisama Kiss: Volume 25 manga review
By Leroy Douresseaux
October 5, 2017 - 16:28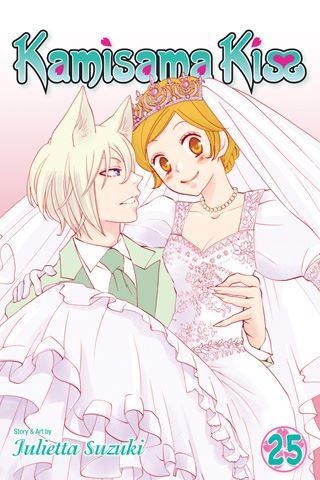 Kamisama Kiss Volume 25 cover image
Rated "T" for "Teen"
LIMITED EDITON includes
-
-Kamisama Kiss Volume 25
ISBN: 978-1-4215-9848-2; paperback (October 2017); Rated "T" for "Teen"
208pp, B&W, $17.99 U.S.
--
Kamisama Kiss: Kamistravaganza
– hardcover art book – 5 x 7 1/2
Hardcover; 64pp, Color & B&W
High school student
Nanami Momozono
was kicked out of the apartment she shared with her father after he left town to avoid his gambling debts. Later, Nanami saved a strange man named
Mikage
, so he generously offered her his home. Nanami later discovered that Mikage had tricked her into taking his job as the tochigami (local god) of the
Mikage Shrine
. To make matters worse, Nanami fell in love with her head shinshi (or familiar),
Tomoe
, a fox yokai who hates humans.
As
Kamisama Kiss

, Vol. 25
(Chapters 144 to 148 to Final Chapter) opens, Nanami prepares for her final year of high school. She is getting ready to leave the Mikage Shrine, and she also has been accepted into a junior college. That means rejoining the human world for good. Tomoe is ready to become a human and leave the world of the yokai. Obviously, Nanami and Tomoe will be together, but will they be together as husband and wife?
THE LOWDOWN:
The Kamisama Kiss manga comes to an end, and creator
Julietta Suzuki
parades many of the supporting characters she introduced over nearly 150 chapters before us in this final volume. It serves as a reminder of how imaginative this shojo fantasy and supernatural romance manga was and always will be.
Kamisama Kiss Volume 25
offers a happy ending that is also bittersweet, which I had expected since I began reading this manga. This is the end of Nanami and Tomoe's story for now, and the ending and a promised new beginning are as genuinely magical as Kamisama Kiss has ever been. This is a graphic novel series that deserves to be reread and discovered by new readers.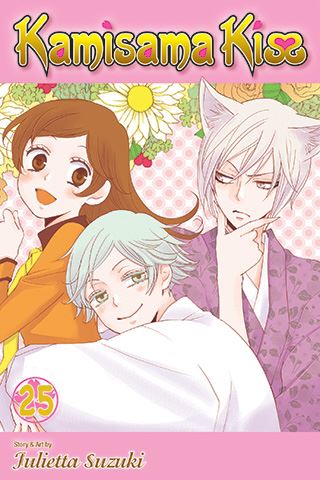 Kamisama Kiss Volume 25 Limited Edition cover
In commemoration of this final volume, there is a Kamisama Kiss Volume 25 Limited Edition. It features a cover that is different from the regular edition cover, and it comes wrapped in a bundle with a mini art book, Kamisama Kiss: Kamistravaganza. The book includes a bonus story set a decade in the future, some full-color art, and some pencil sketches Suzuki drew for the final chapter. In America, we call those "pencil sketches" pencil art, because they look more detailed than sketches.
I READS YOU RECOMMENDS:
Fans of fantasy and yokai-themed manga will want to read the Shojo Beat graphic novel series,
Kamisama Kiss
.
A+
10 out of 10
Rating: 10 /10
Last Updated: January 24, 2022 - 11:00