Kamisama Kiss: Volume 23 manga review
By Leroy Douresseaux
February 8, 2017 - 20:52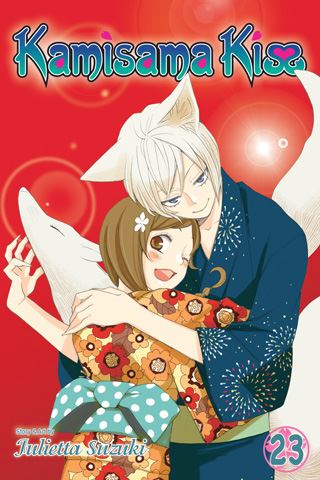 Kamisama Kiss Volume 23 cover image
Rated "T" for "Teen"
High school student
Nanami Momozono
is kicked out of the apartment she shares with her father, because he left town to avoid his gambling debts. Later, Nanami saves a strange man named Mikage, so he generously offers her his home. Nanami later discovers that
Mikage
has tricked her into taking his job as the tochigami (local god) of the Mikage Shrine. To make matters worse, Nanami is in love with her head shinshi (or familiar),
Tomoe
, a fox yokai who hates humans.
As
Kamisama Kiss

, Vol. 23
(Chapters 132 to 137) opens, Nanami and fox Tomoe continue their quest to stop
Kirihito
and
Yatori
from entering the
Mountain of Flames
. It is there that the body of the terrible yokai,
Akura-oh
, resides. Kirihito is the human in whose body Akura-oh's soul resides. However, the appearance of of
Ako
, a little girl who cries a lot, will throw both sides into turmoil.
THE LOWDOWN:
The
Kamisama Kiss
manga is always a highly imaginative shojo fantasy manga, but sometimes it can be powerfully dramatic. This series makes the best of its primary genres: shojo romance, yokai fantasy, and supernatural drama.
In
Kamisama Kiss Volume 23
, creator
Julietta Suzuki
shows her narrative strengths, weaving a poignant run of chapters that plays with the best of supernatural romance and yokai fantasy. I was quite surprised by the resolution of Kirihito's story, and I am excited by the possibilities of the focus on the consequences of Yatori's actions. Dear reader, I want you to also enjoy this genuinely magical manga,
Kamisama Kiss
.
I READS YOU RECOMMENDS:
Fans of fantasy and yokai-themed manga will want to try the Shojo Beat title,
Kamisama Kiss
.
A
Rating: A /10
Last Updated: January 24, 2022 - 11:00