Kamisama Kiss: Volume 21 manga review
By Leroy Douresseaux
June 12, 2016 - 21:12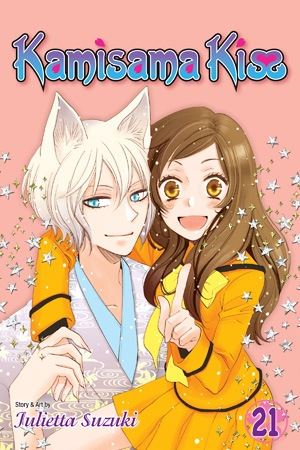 Kamisama Kiss Volume 21 cover image
Rated "T" for "Teen"
Nanami Momozono
is kicked out of the apartment she shares with her father, after he leaves town to avoid his gambling debts. Then, Nanami, a high school student, saves a strange man named
Mikage
, so he generously offers her his home. Nanami later discovers that Mikage has tricked her into taking his job as the tochigami (local god) of the Mikage Shrine. To make matters worse, her head shinshi (or familiar) is
Tomoe
, a fox yokai who keeps Nanami from enjoying her youth.
As
Kamisama Kiss

, Vol. 21
(Chapters 120 to 125) opens, Tomoe has made up his mind. He is determined to become a human in order to be with Nanami, but his efforts to be human transformed him into a fox. He is also upset that Nanami has met
Kirihito
, the human whose body is now a vessel for the great (and evil) yokai,
Akura-oh
, a former friend of Tomoe's.
Mikage tells Nanami that he is taking Tomoe to
Izumo
so that the kamisama there,
Okuninushi
, can heal Tomoe. Warned not to follow, Nanami follows anyway and finds herself facing off with one of Akura-oh's henchmen. Meanwhile, Kirihito plots to recover Akura-oh's body.
THE LOWDOWN:
The
Kamisama Kiss
manga continues to be a highly imaginative shojo fantasy manga. There are times, however, when creator
Julietta Suzuki
presents so many new people, beings, and creatures that the narrative slows to crawl and reads like story padding.
Kamisama Kiss Volume 21
is one of those volumes where the strange lands and stranger denizens make for a delightful read. This is also one of those volumes that will assure a new reader that it is okay to go back and start at the beginning. The romance of Nanami and Tomoe continues to be engaging, and the advance of this supernatural love is worth following.
POSSIBLE AUDIENCE:
Fans of fantasy and yokai-themed manga will want to try the Shojo Beat title,
Kamisama Kiss
.
A
Rating: A /10
Last Updated: January 24, 2022 - 11:00