Kamisama Kiss: Volume 18 manga review
By Leroy Douresseaux
June 7, 2015 - 08:51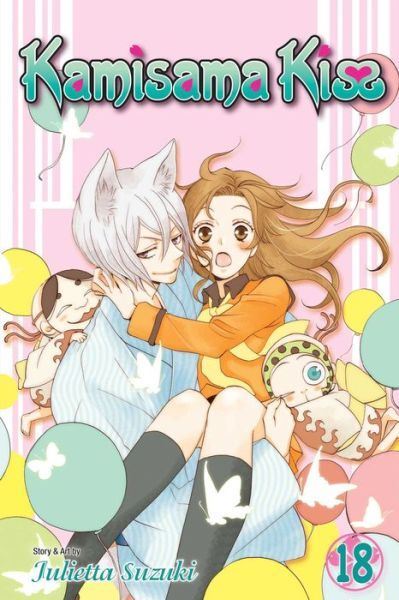 Kamisama Kiss Volume 18 cover image is courtesy of barnesandnoble.com.
Rated "T" for "Teen"
Nanami Momozono
, a high school student, was kicked out of the apartment she shared with her father, who had already left town to avoid his gambling debts. Then, Nanami saved a strange man named
Mikage
, so he generously offered her his home. Nanami later discovered that Mikage had tricked her into taking his job as the tochigami (local god) of the
Mikage Shrine
. To make matters worse, her head shinshi (or familiar) was
Tomoe
, a fox
yokai
who keeps Nanami from enjoying her youth.
As
Kamisama Kiss

, Vol. 18
(Chapters 102 to 107) opens, Nanami is ready for a return to normal life after all her time traveling. Normal for her, however, is life with Tomoe a fox yokai, and time alone with him will be delayed.
It's time for the students of
Ojigami High School
to go on a school trip to Okinawa. Nanami's friend,
Ami
, finds herself smitten by fellow student,
Kurama Kurashinjuro
, a super-popular idol who is also a crow tengu, and Ami wants to spend time with him on the trip. However, the trip is about to turn into a frightening yokai nightmare.
THE LOWDOWN:
The
Kamisama Kiss
manga is as imaginative as ever, but I was not really interested in reading more puppy love scenes. Just my luck that
Kamisama Kiss Volume 18
was ready to throw in more yokai shenanigans.
By the end of this volume, creator
Julietta Suzuki
is in the midst of a dark tail of duplicity and treachery. The best part of
Kamisama Kiss
' imagination is that it isn't always about sweet tales of yokai and supernatural love. It isn't afraid to kiss the dark side.
POSSIBLE AUDIENCE:
Fans of fantasy and yokai-themed manga will want to try the Shojo Beat title,
Kamisama Kiss
.
Last Updated: January 24, 2022 - 11:00