Kamisama Kiss: Volume 12 manga reviews
By Leroy Douresseaux
January 29, 2013 - 16:21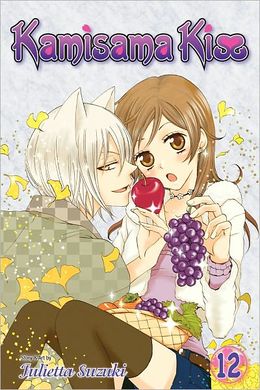 Kamisama Kiss Volume 12 cover image is courtesy of barnesandnoble.com.
Rated "T" for "Teen"
Nanami Momozono was abandoned and homeless after her father left town to avoid his debts. Then, Nanami saved a strange man, so he offered her his home. Nanami later discovered that the man had tricked her into taking his job as the kami (local god) of the Mikage Shrine. To make matters worse, her shinshi (or familiar), is Tomoe, a fox yokai who keeps Nanami from enjoying her youth. Her second shinshi is Mizuki, the incarnation of a white snake.
As Kamisama Kiss, Vol. 12 (Chapters 67 to 72) opens, Himemiko, the ayakashi (yokai) ruler of Tatara swamp, wants to marry her human sweetie, a frail boy named Kotaro. Himemiko (also known as "the catfish princess") wants to use Mikage Shrine for the wedding ceremony. However, Nishiki Ryori, Prince of Inunaki Swamp, wants to marry Himemiko, to whom he was long ago betrothed. In a rash act, Nishiki ("the carp prince") magically transports the Mikage Shine to his underwater kingdom.
Then, another ayakashi, Ryu-oh Sukuna, who rules over the seven seas, arrives. Why? Who knows? But Himemiko never told Kotaro the truth about herself, as she lives as a human. When all the supernatural entities start to intrude, will she tell Kotaro the truth… and risk losing him?
THE LOWDOWN: The Kamisama Kiss manga deserves credit for being imaginative, because there is always some strange new place or weird and wonderful new creature, being, or person to meet. That is my standard line about Kamisama Kiss, a series that has been a little inconsistent in its tone. Sometimes, I think series creator Julietta Suzuki writes storylines that are too dark for the series' generally light and fun vibe. Most of the stories are sweet, cute, and have enough inventive fantasy elements to seed an entirely separate series.
But it is volumes like Kamisama Kiss Volume 12 that make me stay with this series. I could read a volume like this one all week. This current story arc, more or less the wedding of Himemiko, is a delightful comic fantasy. Suzuki's deft use of misdirection, misunderstanding, and misidentification makes for high-spirited comedy. Add that to the imaginative scenario and this is a winner.
POSSIBLE AUDIENCE: Fans of fantasy and yokai-themed manga will like the Shojo Beat title, Kamisama Kiss.
Rating: A /10
Last Updated: August 31, 2023 - 08:12