Kamisama Kiss: Volume 11 manga review
By Leroy Douresseaux
October 30, 2012 - 11:43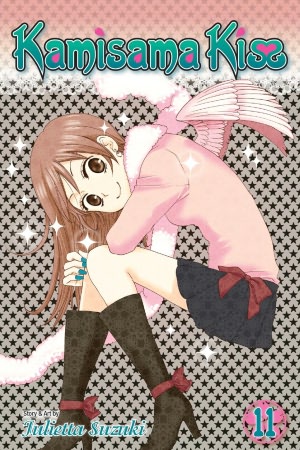 Kamisama Kiss Volume 11 cover image is courtesy of barnesandnoble.com.
Rated "T" for "Teen"
Her father left town to avoid his debts, so Nanami Momozono was abandoned and homeless. Nanami saved a strange man, so he offered her his home. However, Nanami later discovered that the man had tricked her into taking a job as the kami (local god) of the Mikage Shrine. To make matters worse, her shinshi (or familiar), is Tomoe, a fox yokai who keeps Nanami from enjoying her youth. Her second shinshi is Mizuki, the incarnation of a white snake.
As Kamisama Kiss, Vol. 11 opens, New Year's is coming up. It's that time of year for the Mikage Shrine to send a representative to greet the toshigami (deity of a specific area of land), in order to assure a good harvest for the year. Nanami insists on accompanying Tomoe and Mizuki. The entrance to the toshigami shrine is a group of torii, one of which Nanami enters. When Tomoe and Mizuki enter to find Nanami, they find her childhood.
Also, Kirihito again enters the Land of the Dead to find his body – with the annoying Yatori right behind him. Later, Nanami follows Tomoe to the Other World for a shopping trip. A fortune teller promises to answer a question for her, and she wants to know about her future with Tomoe.
THE LOWDOWN: The Kamisama Kiss manga deserves credit for being imaginative, because there is always some strange new place or weird and wonderful new creature, being, or person to meet. It is a sweet shojo high school romance, although the characters are in various fantasy worlds more than they are in high school. The frequent visits to enchanted lands and settings are what makes Kamisama Kiss fun to read.
Series creator Julietta Suzuki uses a magical place to reveal Nanami's past. It's poignant and gives this narrative that is usually about flights of fancy some dramatic heft. This deeper look into the series' star proves that Kamisama Kiss is not just another shojo teen fantasy with some magic thrown into the mix.
POSSIBLE AUDIENCE: Fans of fantasy-themed "Shojo Beat" manga will like Kamisama Kiss.
Rating: A- /10
Last Updated: August 31, 2023 - 08:12