Jormungand: Volume 10 manga review
By Leroy Douresseaux
January 15, 2013 - 16:23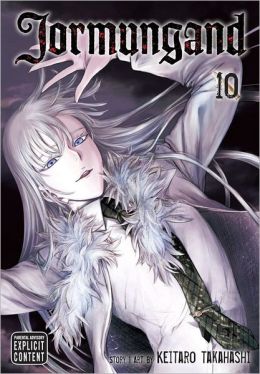 Jormungand Volume 10 cover image is courtesy of barnesandnoble.com.
Rated "M" for "Mature"
The profession of arms dealing is like Jormungand, the giant serpent of Norse mythology. Both are coiled tightly around the world, with arms dealing spreading the poison of arms and weapons. Jonah is a child soldier who saw his parents killed in a war fueled by the weapons that arms dealers sell. Koko Hekmatyar, a high-flying arms dealer, recruits the talented young killer, and he joins her band of mercenaries, who operate under the guise of H&C Logistic Incorporated (HCLI). Can Jonah reconcile his hatred of weapons with his new job?
As Jormungand, Vol. 10 (Chapters 57 to 64) opens, Koko and her old friend, Dr. Minami Amada, a Japanese scientist and authority on robotics technology, continue the launch of their new project. It's called "Jormungand." The next phase of the project launches on the coast of the Caspian Sea, when HCLI operatives kidnap Dr. Elena Baburin, an authority on quantum physics.
Her next target is at Guantanamo Bay, Cuba, imprisoned on "Camp No." Ibrahim Faiza AKA "Rabbit Foot" is a doctor of quantum physics and is also a Middle East hacker and Internet news leak organizer. CIA Second Chief George Black AKA Bookman isn't about to let that happen. He calls in Naval Special Warfare Commandos, SEAL Team 9 – Alpha Platoon. They are known as "the Night Nine," and they are the best – especially good at night missions. Let the war game begin.
THE LOWDOWN: I have been a snob against the Jormungand manga. I have even been hot and cold (even lukewarm) about liking the series. There are moments of brilliant graphics that perfectly capture the kind of gunfights seen in movies in the static images of the comic book. There are also chapters and even series of chapters that have been flat, having a story that lacks energy.
Jormungand Volume 10 rises on the art contained in this volume. There are pages in which creator Keitaro Takahashi emphasizes clean line work for character drama bits. The best art in this volume, however, is presented for the action scenes set at night. The frantic crosshatching and layers of brushwork inking combine with a mass of toning and splashes of whiteout (or ink white) dotted across the corners of certain pages. These striking images make Jormungand seem like more than just another seinen gun-crazy manga. Jormungand dark thirty, indeed.
POSSIBLE AUDIENCE: Readers who want action movie/mercenary shoot 'em ups will want the VIZ Signature title, Jormungand.
Rating: A- /10
Last Updated: August 31, 2023 - 08:12