Jormungand: Volume 8
By Leroy Douresseaux
January 9, 2012 - 14:25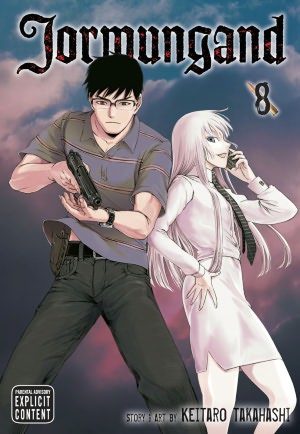 Jormungand Volume 8 cover image is courtesy of barnesandnoble.com.
Rated "M" for "Mature"
Jormungand, a figure in Norse mythology and one of Loki's children, is a giant serpent and god of the sea. The profession of arms dealing, like Jormungand, is coiled tightly around the world, spreading the poison of arms and weapons. Jonah is a child soldier who saw his parents killed in a war fueled by the weapons that arms dealers sell. Koko Hekmatyar, a high-flying arms dealer, recruits the talented young killer into her band of mercenaries, who operate under the guise of H&C Logistic Incorporated (HCLI). Can Jonah reconcile his hatred of weapons with his new job?
In Jormungand, Vol. 8, Koko and her team come to the aid of her brother, Kasper Hekmatyar, HCLI's Director of Asian Markets. There is a new player in the Southeast Asia arms market, Colonel Yosuke Hinoki, also known as Japan's "one and only spymaster." Hinoki's SR Unit is gunning for the Hekmatyars, and there is also a big complication. One of Koko's team, Akihiko Tojo, was once part of Hinoki's team.
THE LOWDOWN: As I mentioned in an earlier review, I have been hot and cold (even lukewarm) about Jormungand. Sometimes, I really like it, and other times, I have found it amateurish – sometimes in the same volume.
But I must honest with you, dear reader. I love action movies with lots of gunplay… for the most part, and this issue is a cap-popping delight. Like a slick, Hollywood action movie, Jormungand, Vol. 8 offers character drama intrigue that inevitable leads to bullets flying. I enjoy it more than I do Marvel's The Punisher.
POSSIBLE AUDIENCE: Readers who want the comic book version of a shoot-'em-up action movie will definitely want to try the Jormungand manga.
A-
Last Updated: August 31, 2023 - 08:12