Jormungand: Volume 1
By Leroy Douresseaux
November 8, 2009 - 21:19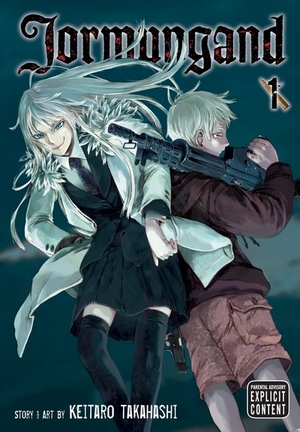 Jormungand Volume 1 cover image
Rated "M" for "Mature"
The manga, Jormungand, the debut series from Keitaro Takahashi, takes its name from Norse mythology. Jormungand is a giant serpent, the god of the sea, and a child of Loki. Like the mythical Jormungand, the characters of this series spread their poison around the world, and their profession has the world wrapped tightly in its coils.
Jonah is a child soldier who saw his parents killed in war fueled by the weapons arms dealers sell. Koko Hekmatyar, a high-flying arms dealer, recruits the talented young killer into her band of mercenaries – who operate under the guise of H&C Logistic Incorporated. Can Jonah reconcile his hatred of weapons with his chosen profession?
In Jormungand, Vol. 1, Jonah joins H&C Logistic Incorporated just in time for the fun. Koko and company face off against a corrupt bureaucrat in an unnamed Eastern European country; the bureaucrat is trying to steal some merchandise that belongs to Koko. Next, in the three-part "Pulsar Phase" storyline, still in that unnamed Eastern European country, the team finds itself caught in a battle/skirmish near the Russian border. Trapped with a rival arms dealer and his henchmen, Koko and company may be forced to sell to a customer they don't want.
THE LOWDOWN: While it bears a passing resemblance to Black Lagoon (both series are about mercenaries), Jormungand lacks the depth of the Rei Hiroe-created Lagoon. Jormungand is violent. and Keitaro Takahashi's art is flashy and stylish, with line work that slashes across the pages like a recklessly swung knife blade. However, most of the characters are shallow, although Koko Hekmatyar is a bad girl with some potential. As for Jonah, who is ostensibly the lead, Takahashi seems reluctant to engage the character in any meaningful manner. Jonah, at this point, is barely even a cipher, and that is unacceptable for this narrative.
POSSIBLE AUDIENCE: Fans of Black Lagoon and Dogs: Bullets & Carnage may want to try Jormungand.
B
Last Updated: August 31, 2023 - 08:12