VIZ Media to Publish Jormungand
By The Editor
October 30, 2009 - 14:28
VIZ MEDIA LETS THE BULLETS AND ACTION FLY IN NEW MANGA SERIES JORMUNGAND
Death Is A Business And Business Is Good For A Crack Team Of Mercenaries; Staying Alive Becomes Even More Dangerous When A New Young Recruit Joins The Team
VIZ Media, LLC (VIZ Media), one of the entertainment industry's most innovative and comprehensive publishing, animation and licensing companies, will premiere the exciting new manga series JORMUNGAND to readers across North America next month. The new action adventure by Keitaro Takahashi will be published by VIZ Media's Signature imprint and will release on November 10th. JORMUNGAND is rated 'M' for Mature Readers and will carry an MSRP of $12.99 U.S. / $16.99 CAN.
Jonah is a child soldier, born amidst the chaotic conflicts that rage across West Asia. His family was lost to a war fueled by weapons supplied by the so-called Merchants of Death – international arms dealers. Despite Jonah's hatred of weapons and violence, he employs them extremely well in the service of high-flying arms dealer named Koko Hekmatyar and her band of mercenaries. Their journey through the dark underbelly of the world's arms markets may lead to damnation, but will Jonah somehow make his way back to the light? Only one thing is certain: it's going to be a long, hard road out of hell... Death is their business, and business is good! In Volume 1, Koko Hekmatyar, the head of H&C Logistic Incorporated, introduces new recruit Jonah to her expert team of troubleshooters, and it isn't long before they find some trouble to shoot. An Eastern European government official holds up a shipment of aircraft parts that would shift the balance of power in the region. But the real trouble is that shipment belongs to Koko, and she's not about to miss an opportunity to make a profit, even if it means two nations go to war!
"JORMUNGAND takes its name from the fabled ferocious sea serpent in Norse mythology, and readers will be at the edge of their seats with this fierce band of mercenaries that live up to the name with an insatiable taste for trouble and gunplay," says Gonzalo Ferrerya, Vice President, Sales & Marketing. "JORMUNGAND is a must-read for any action fan, and Keitaro Takahashi's manga delivers plenty of bullet-riddled adventures as he fills each chapter with plenty of shady characters, double deals, and enough heavy metal weaponry to make any modern paramilitary jealous! Just remember to keep your head down and eyes glued to the page!"
Keitaro Takahashi's debut manga, Ordinary±, won the Four Seasons Prize in 1999 and was subsequently serialized in Gekkan Afternoon magazine in Japan. Prior to creating JORMUNGAND in 2006, Takahashi worked as an illustrator for several books and he has drawn considerable acclaim for his striking, realistic and angular style.
For information on VIZ Media titles, please visit www.VIZ.com.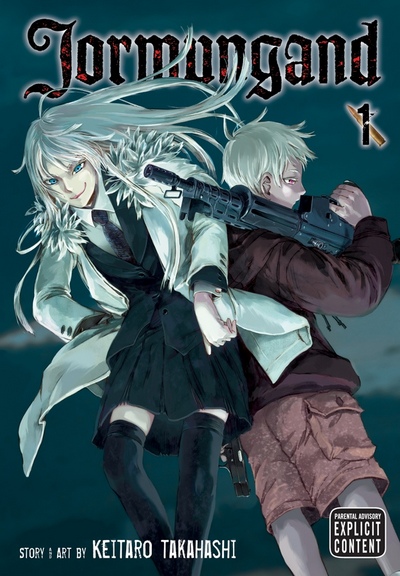 Jormungand Volume 1 cover image
Last Updated: August 31, 2023 - 08:12