Jormungand: Volume 9
By Leroy Douresseaux
June 16, 2012 - 14:50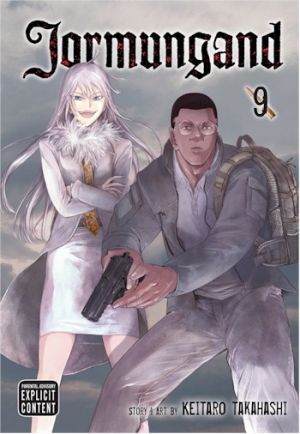 Jormungand Volume 9 cover image is courtesy of Anime Castle Books.
Rated "M" for "Mature"
Jormungand, a figure in Norse mythology, is a giant serpent. The profession of arms dealing, like Jormungand, is coiled tightly around the world, spreading the poison of arms and weapons. Jonah is a child soldier who saw his parents killed in a war fueled by the weapons that arms dealers sell. Koko Hekmatyar, a high-flying arms dealer, recruits the talented young killer. He joins her band of mercenaries, who operate under the guise of H&C Logistic Incorporated (HCLI). Can Jonah reconcile his hatred of weapons with his new job?
As Jormungand, Vol. 9 opens, Lehm, the leader of Koko's squad, tells Jonah how he first met William "Wiley" Nelson, the squad's explosives expert. This history lesson is relevant. Lehm met Wiley in Iraq, back during the first Gulf War. Now, Lehm and Wiley are back in Iraq with HCLI, as the company delivers supplies in Southern Iraq. They are assisted by Excalibur, a private military company (PMC), but when the joint venture goes wrong, Wiley's specialized skills come into play.
Plus, Koko joins an old friend, Dr. Minami Amada, to launch a new project, one she calls Jormungand.
THE LOWDOWN: It is time for me to stop being a snob. As I have mentioned in earlier reviews, I have been hot and cold (even lukewarm) about Jormungand. Sometimes, I have even found it amateurish. The truth of the matter, however, is that I love, love, and absolutely love what creator Keitaro Takahashi does best, and that's depict wild and woolly shootouts. I find that the stories falter whenever Takahashi tries to move to character drama, especially when the characters are talking shop about arms sales and logistics. Some of the character drama is good, but when the bullets fly, this series flies.
POSSIBLE AUDIENCE: Readers who want smoking hot guns will want Jormungand.
Rating: B+ /10
Last Updated: August 31, 2023 - 08:12