Jormungand: Volume 11 manga review
By Leroy Douresseaux
May 14, 2013 - 10:16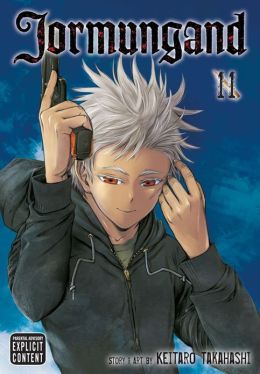 Jormungand Volume 11 cover image is courtesy of barnesandnoble.com.
Rated "M" for "Mature"
The seinen manga (comics for adult men), Jormungand, takes its name from the giant serpent of Norse mythology. The profession of arms dealing is like Jormungand, coiled tightly around the world, with arms dealing spreading the poison of arms and weapons. Jonah, a child soldier, saw his parents killed in a war fueled by the weapons arms dealers sell. Koko Hekmatyar, a high-flying arms dealer, recruits the talented young killer, and he joins her band of mercenaries, who operate under the guise of H&C Logistic Incorporated (HCLI). Can Jonah reconcile his hatred of weapons with his new job?
Jormungand, Vol. 11 (Chapters 65 to Final Chapter) is the final volume in the series. As the book opens, Jonah defies Koko. He decides that he can no longer be a member of "Koko's squad," so he leaves H&C Logistic Incorporated (HCLI). The reason is Koko's project called "Jormungand."
Jormungand is Koko's plan to force world peace by taking control of global logistics and by forcing humanity from the skies. After the project is launched and activated, all human movement by land, sea, and air will come under the control of HCLI's satellite network and its quantum computer system.
However, Jonah leaves Koko's group only to join her brother, Kasper Hekmatyar's organization. The youngster is at a deadly impasse. Will Koko actually activate Jormungand? And will Jonah reunite with her? Will there be peace and at what cost?
THE LOWDOWN: As I often write in my reviews of the Jormungand manga, I have previously been a snob against the series. It began as a typical, shoot-'em-up seinen manga about mercenaries, espionage, and guns. Eventually, the often brilliantly conceived graphics won me over.
Over the course of the series, however, it started talking thoughtfully about war and conflict, even as creator Keitaro Takahashi filled page after page with action scenes composed in slick graphic design and eye-catching graphical storytelling. Jormungand ends better than it began, and it makes me wish there more – more cool-looking action scenes and more talking about the cost of war and the costly fog or war.
POSSIBLE AUDIENCE: Readers who want think think-bang bang will want the VIZ Signature title, Jormungand.
Rating: A /10
Last Updated: August 31, 2023 - 08:12