Jormungand: Volume 2
By Leroy Douresseaux
February 8, 2010 - 10:30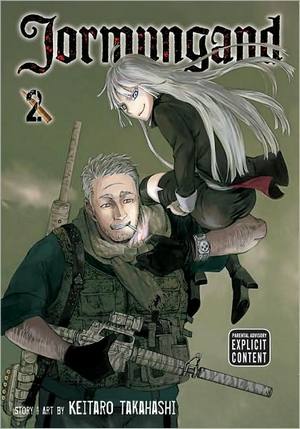 Jormungand Volume 2 cover image
Rated "M" for "Mature"
A figure in Norse mythology, Jormungand, one of Loki's children, is a giant serpent and god of the sea. Like Jormungand, arms dealers spread their poison around the world, and their profession has the world wrapped tightly in its coils. This is the story of Jonah, a child soldier who saw his parents killed in a war fueled by the weapons arms dealers sell. Koko Hekmatyar, a high-flying arms dealer, recruits the talented young killer into her band of mercenaries, who operate under the guise of H&C Logistic Incorporated. Can Jonah reconcile his hatred of weapons with his new profession?
In Jormungand, Vol. 2, Chinatsu and Shisho, two assassins known as the Orchestra, take on a bounty to assassinate Koko. The duo finds its target in Dubai (United Arab Emirates), but Koko proves hard to kill – especially when she has friends like her band of mercenaries. Jonah proves to be the most surprising. Plus, the return of Koko's brother, Kasper, proves not to be routine as promised.
THE LOWDOWN: With bullets flying fast and furious and far fewer people killed this time around, Jormungand might seem to ply its trade in cartoonish violence. Jormungand's usual body count is high, and it presents gunfire like a John Woo movie with the gloss of Doug Liman's Mr. and Mrs. Smith. Vol. 2 still features the gunplay readers can expect from Jormungand, but the chapters in this volume focus on the personalities and motivations of some of the characters, especially Koko and Jonah, and even the villains, Chinatsu and Shisho.
POSSIBLE AUDIENCE: Fans of Black Lagoon and Dogs: Bullets & Carnage definitely want to try Jormungand.
B+
Last Updated: August 31, 2023 - 08:12