Itsuwaribito: Volume 10 manga review
By Leroy Douresseaux
December 9, 2013 - 16:43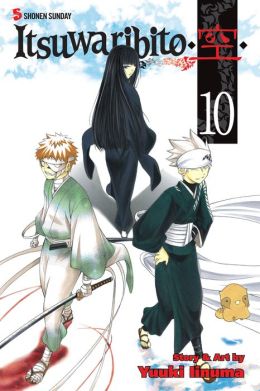 Itsuwaribito Volume 10 cover image is courtesy of barnesandnoble.com.
Rated "T+" for "Older Teen"
When he was a child, Utsuho Azako told the truth. The result was the destruction of the village of orphans where he lived. Now, Utsuho is an unrepentant troublemaker and a self-professed "Itsuwaribito," a crook that practices all illicit trades. Still, this teen wants to help people. Traveling with his talking tanuki, Pochi; a young physician who hates liars, Dr. Koshiro Yakuma; the refugee, Neya Multo; the mysterious Hikae Nibyo; and Iwashi, ruler of Ouna, Utsuho helps others by telling lies.
As Itsuwaribito, Vol. 10 (Chapters 88 to 97) opens, someone mistakes Neya for the infamous Onihime – Demon Princess. Well, it turns out that Neya is connected to the Onihime, but just how deep is the connection?
Then, Utsuho and company head for the capital city so that Koshiro can check on an old patient, Tokino-o Hiinnomiya. He is the Onkado, which is a ceremonial title, but some people see him as a grave threat. Now, Koshiro and his friends decide to join the Onkado's guards to protect him. But who are the Kaiten Party, his would-be assassins?
Meanwhile, the Itsuwaribito who are rivals to Utsuho and his companions: Uzume, Choza, Minamo and Kuroha and Saiha reunite. Kuroha tells everyone the story of how she and Saiha came together.
THE LOWDOWN: As I've written in previous reviews of the Itsuwaribito manga: in spite of its violence, it is appropriate for teen readers. More mature readers will also like it. The series has irascible characters and a prankster attitude, which will appeal to teen readers. However, creator Yuuki Iinuma offers deep insight into all characters: leads, supporting, and guest. The long-running or connected story arcs are also tailor-made for adult comic book readers.
Plus, Itsuwaribito Volume 10 is one of the best volumes of the series. It is also one of the volumes that do not offer stories filled with odd elements.
POSSIBLE AUDIENCE: Fans of martial arts and samurai comedies will want to try the Shonen Sunday title, Itsuwaribito.
Rating: A /10
Last Updated: August 31, 2023 - 08:12