Itsuwaribito: Volume 12 manga review
By Leroy Douresseaux
August 20, 2014 - 15:58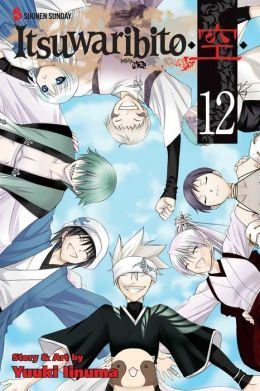 Itsuwaribito Volume 12 cover image is courtesy of barnesandnoble.com.
Follow me on
Twitter
.
Rated "T+" for "Older Teen"
When he was a child,
Utsuho Azako
learned that telling the truth can lead to heartbreak and loss. Now, Utsuho is an unrepentant troublemaker and a self-professed "
Itsuwaribito
," a crook that practices all illicit trades. Still, this teen wants to help people. He travels with his talking
tanuki
,
Pochi
; a young physician who hates liars,
Dr. Koshiro Yakuma
; the refugee,
Neya Multo
; the mysterious
Hikae Nibyo
; and
Iwashi
, ruler of Ouna. They all help people, but Utsuho does so by being a liar.
As
Itsuwaribito
, Vol. 12 (Chapters 108 to 117) opens, Utsuho and company have nearly stamped out the rebellion in the capital city. However, the plot to kill Tokino-o Hiinnomiya, who is the
Onkado
, the city's ceremonial leader, continues. The rebels, known as the
Kaiten Party
, are closer than they have ever been to doing this. All that separates rebel leader,
Gain Shishio
, from his goal is a curtain.
Later,
Yorushichi
, a covert agent of the Shogunate, competes with Utsuho and his band for another part of the treasure known as the Kokonotsu. Three rival Itsuwaribito:
Uzume
,
Choza Habaki
, and
Minamo Kawazu
, decide to join Utsuho and his friends. They end up in the mysterious
Village Village
, where they make many shocking discoveries.
THE LOWDOWN:
What one finds in the
Itsuwaribito
manga is a mix of combat violence and silly, playful humor.
Itsuwaribito Volume 12
adds an atmosphere of mystery and some stunning revelations. I was tired of the capital city rebellion plot, but what happens after that story arc finishes pleased me quite a bit.
There is a ghost village story, some Japanese fantasy creature action, and revelatory bits that return to the early chapters of this series. I find that
Itsuwaribito
can be a bit up and down, just a little inconsistent. However, Vol. 12 shows off what the series does as well as it does violence (comic and otherwise), and that is imagination.
POSSIBLE AUDIENCE:
Fans of martial arts and samurai comedies will want to try the Shonen Sunday title,
Itsuwaribito
.
Rating: A- /10
Last Updated: August 31, 2023 - 08:12