Itsuwaribito: Volume 11 manga review
By Leroy Douresseaux
April 28, 2014 - 15:12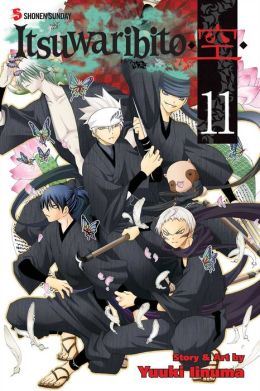 Itsuwaribito Volume 11 cover image is courtesy of barnesandnoble.com.
Follow Leroy on Twitter.
Rated "T+" for "Older Teen"
As a child, Utsuho Azako learned that telling the truth can lead to heartbreak and loss. Now, Utsuho is an unrepentant troublemaker and a self-professed "Itsuwaribito," a crook that practices all illicit trades. Still, this teen wants to help people. He travels with his talking tanuki, Pochi; a young physician who hates liars, Dr. Koshiro Yakuma; the refugee, Neya Multo; the mysterious Hikae Nibyo; and Iwashi, ruler of Ouna. They all help people, but Utsuho does so by being deceptive and mischievous.
As Itsuwaribito, Vol. 11 (Chapters 98 to 107) opens, Utsuho and company are in the capital city. They have decided to help Onkado, the city's ceremonial leader, whose name is Tokino-o Hiinnomiya. Dr. Yakuma heals from the wounds he suffered during an attack by Kawahori Iriya, an old enemy of Utsuho's, who is apparently part of a conspiracy against the Onkado.
So Utsuho reconfigures the Onkado's security forces, as the city prepares for the Onkado's birthday festival. The rebels, known as the Kaiten Party, prepare to kill the Onkado, during the festival. Rebel leader, Gain Shishio, also decides to confront his erstwhile ally, Iriya. Meanwhile, a third group enters this dangerous game.
THE LOWDOWN: The Itsuwaribito manga mixes combat violence with silly, playful humor. Itsuwaribito Volume 11 has more of the former than the latter. In the chapters that make up Vol. 11, creator Yuuki Iinuma focuses on the "ties that bind," relationships and obligations, and fellowship and yearning for kinship.
That gives this volume a tragic edge. That ability to be poignant and bloody and then, juvenile and funny make Itsuwaribito a manga that is appropriate for young readers and of interest to mature audiences. I must admit that, at times, it can be off-putting to go from yucks to yucky violence
POSSIBLE AUDIENCE: Fans of martial arts and samurai comedies will want to try the Shonen Sunday title, Itsuwaribito.
Rating: A- /10
Last Updated: August 31, 2023 - 08:12