Itsuwaribito: Volume 20 manga review
By Leroy Douresseaux
April 16, 2017 - 22:09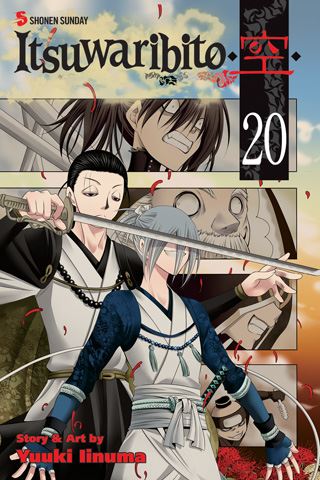 Itsuwaribito Volume 20 cover image
Rated "T+" for "Older Teen"
Utsuho Azako
once told the truth and inadvertently caused an enormous catastrophe. From that day forward, Utsuho decided he would lie, and he went on to become an unrepentant troublemaker. He is a self-professed "
Itsuwaribito
," a crook that practices all illicit trades. This teen travels with a group of misfits including his talking tanuki,
Pochi
. and a young physician who hates liars,
Dr. Koshiro Yakuma
. They all help people, but Utsuho does so by using this talents for mischief and deception.
As
Itsuwaribito

, Vol. 20
(Chapters 188 to 197) opens, Utsuho and company begin the final battles in their war against
Gin Hobaku
, the Itsuwaribito who killed Utsuho's family, and Gin's gang. Team Utsuho's
Uzume
, the great fighter, intends to not only defeat Team Gin's
Kagyu
, but to also kill him. However, Utsuho wants to win by using the bonds of friendship against Gin, but the winners of this battle must truly have the vision to see the connections.
THE LOWDOWN:
I have described the
Itsuwaribito
manga as offering a variety of moods, tones, and genres. From time to time, the readers never know what they are going to get.
In
Itsuwaribito Volume 20
, creator Yuuki Iinuma knows what he wants to say to the readers. Itsuwaribito is about family. VIZ Media has been publishing Itsuwaribito in English for almost 6 and a half years, and over that time, the number of characters that have joined Utsuho Azako's cause continues to grow. It is in this ensemble that this narrative has found its strength, and I have found my interest in this series is stronger. Where to next, and who is joining next?
I READS YOU RECOMMENDS:
Fans of martial arts and of samurai comedies will want to try the Shonen Sunday title,
Itsuwaribito
.
A-
Rating: A- /10
Last Updated: August 31, 2023 - 08:12