Itsuwaribito: Volume 18 manga review
By Leroy Douresseaux
August 17, 2016 - 14:02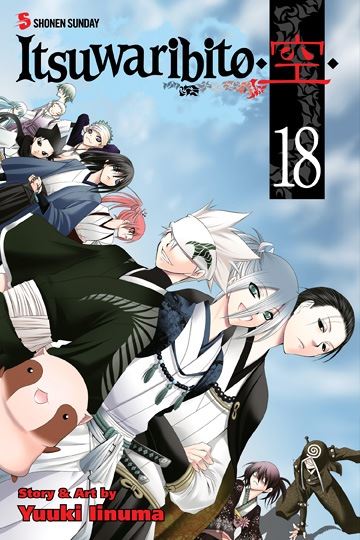 Itsuwaribito Volume 18 cover image
Rated "T+" for "Older Teen"
Utsuho Azako
once inadvertently caused an enormous catastrophe because of his truthfulness. Utsuho would become an unrepentant troublemaker and a self-professed "
Itsuwaribito
," a crook that practices all illicit trades. This teen travels with his talking tanuki,
Pochi
; a young physician who hates liars,
Dr. Koshiro Yakuma
; the refugee,
Neya Multo
; the mysterious
Hikae Nibyo
; and
Iwashi
, ruler of Ouna. They all help people, but Utsuho does so by being a liar.
As
Itsuwaribito

, Vol. 18
(Chapters 168 to 177) opens, Utsuho and company battle the forces of
Gin Hobaku
, the Itsuwaribito who killed Utsuho's family. However, in the small town of
Owari
, where the battle takes place, Gin has the advantage. He has tricked the townsfolk and its princess into believing that he is their hero. Utsuho and his friends retreat to a tower where they prepare for the next battle against Gin and company, but is Utsuho and his "family" willing to go as far as Gin and his family are willing to go to win.
[This volume includes bonus manga.]
THE LOWDOWN:
Yes, the
Itsuwaribito
manga is like Forrest Gump's box of chocolates: the reader never knows what he is going to get with his adventure. That is a good thing because this manga sometimes has the makings of a topnotch drama.
Itsuwaribito Volume 18
has lots of fighting and bloodshed, featuring clever and deadly adversaries. However, creator
Yuuki Iinuma
digs into the past of a few of Gin's cohorts. These flashbacks and back stories are engaging, even as short as they are. Itsuwaribito is eccentric and off-beat, but I like that Iinuma dares to change up the pace and tone and to be edgy.
POSSIBLE AUDIENCE:
Fans of martial arts and of samurai comedies will want to try the Shonen Sunday title,
Itsuwaribito
.
A-
Last Updated: August 31, 2023 - 08:12