Itsuwaribito: Volume 8 manga review
By Leroy Douresseaux
April 7, 2013 - 16:33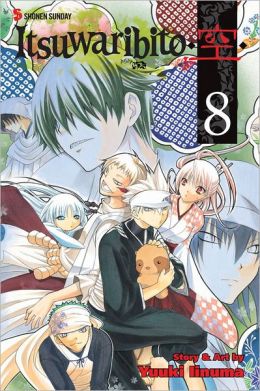 Itsuwaribito Volume 8 cover image is courtesy of barnesandnoble.com.
Rated "T+" for "Older Teen"
There was a time when he was a child that Utsuho Azako told the truth. That truth resulted in the destruction of the village of orphans where he lived. Now, Utsuho is an unrepentant troublemaker and a self-professed "Itsuwaribito," a crook that practices all illicit trades. Still, this teen wants to help people. Traveling with his talking tanuki, Pochi; a young physician who hates liars, Dr. Koshiro Yakuma; the refugee, Neya Multo; and the mysterious Hikae Nibyo, Utsuho helps others by telling lies.
As Itsuwaribito, Vol. 8 (Chapters 68 to 77) opens, Utsuho and company wrap up their adventures on the closed island of Utsuryojima. There is violence, bloodshed, and lots of lies and deception. Speaking of lies and deception, the new adventure introduced Utsuho and company to another group of Itsuwaribito. These troublemakers: Saiha, Choza, Izume, and leader Kuroha could become rivals. They are also looking for the nine fabled treasures known as the Kokonotsu.
Choza, he of the sharp teeth, and Izume, the incredible fighter, are sent on a separate mission, where they meet Minamo Kawazu. Who this person with the strange powers? Now, this trio is about to reunite with Utsuho and his gang at Kuroshiro, the Black Castle from which no man returns!
THE LOWDOWN: In spite of its violence, the Itsuwaribito manga is appropriate for teen readers. With its irascible characters and prankster attitude, it is hard to imagine that a teen reader of comic books would not anything in Itsuwaribito to like.
Also, creator Yuuki Iinuma is always pulling pranks on and inventing traps for the characters. Sometimes, the narrative is as much an ambush as it is a tale to be told. The characters are quirky, at least enough to capture the interest of older readers. In fact, Itsuwaribito is an oddity even in the field of oddities that is shonen manga.
POSSIBLE AUDIENCE: Fans of martial arts and samurai comedies will want to try the Shonen Sunday title, Itsuwaribito.
Rating: A- /10
Last Updated: August 31, 2023 - 08:12