Itsuwaribito: Volume 17 manga review
By Leroy Douresseaux
April 11, 2016 - 20:12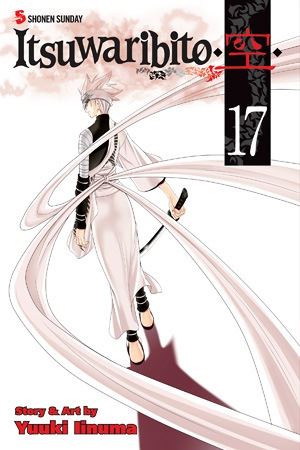 Itsuwaribito Volume 17 cover image
"T+" for "Older Teen"
When he was a child,
Utsuho Azako
inadvertently caused an enormous catastrophe because of his truthfulness. Utsuho would become an unrepentant troublemaker and a self-professed "
Itsuwaribito,
" a crook that practices all illicit trades. This teen travels with his talking tanuki,
Pochi
; a young physician who hates liars,
Dr. Koshiro Yakuma
; the refugee,
Neya Multo
; the mysterious
Hikae Nibyo
; and
Iwashi
, ruler of Ouna. They all help people, but Utsuho does so by being a liar.
As
Itsuwaribito

, Vol. 17
(Chapters 158 to 167) opens, Utsuho leaves his friends behind. He has found the Itsuwaribito who killed his family, and he want to fight him alone. However, this man,
Gin Hobaku
, holds sway over the town of Owari, and, expecting Utsuho, Hobaku has turned the entire town into a trap. And if he needs help fighting off Utsuho, Hobaku can turn to his unstoppable partner,
Kin Mahoroba
. Mutsuhito's friends won't abandon him they way he has them, but will it matter against powerful foes?
[This volume includes bonus manga.]
THE LOWDOWN:
As I have previously written, the
Itsuwaribito
mange is like Forrest Gump's box of chocolates: the reader never knows what he is going to get with his adventure. Much of the series has focused on a treasure hunt, but themes of friendship also permeate the narrative.
Itsuwaribito Volume 17
focuses on violence, manipulation, and revenge. Creator Yuuki Iinuma depicts a quest for revenge that is so strong and determined that it can turn a good person into murderer, even of innocents. The story suggests that friendship saves while obsession damns. It is good to see that this series continues to present itself in so many colors, making it more than its plot suggests. It is uneven at times, but when
Itsuwaribito
is good, as it is this volume, it is really good.
POSSIBLE AUDIENCE:
Fans of martial arts and of samurai comedies will want to try the Shonen Sunday title,
Itsuwaribito
.
A-
Rating: A- /10
Last Updated: August 31, 2023 - 08:12