Itsuwaribito: Volume 14 manga review
By Leroy Douresseaux
April 14, 2015 - 21:38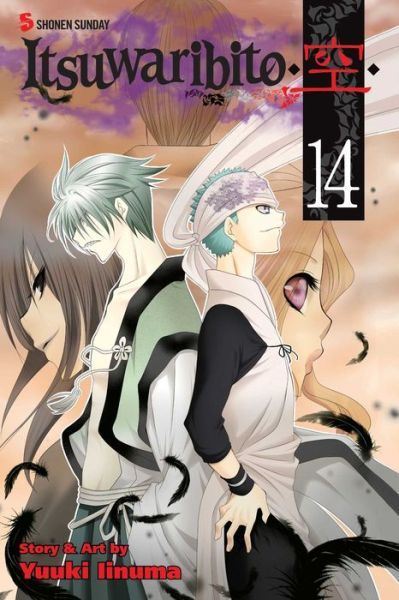 Itsuwaribito Volume 14 cover image is courtesy of barnesandnoble.com.
Follow me on
Twitter
.
Rated "T+" for "Older Teen"
When he was a child,
Utsuho Azako
caused an enormous catastrophe because of his truthfulness. Utsuho is now an unrepentant troublemaker and a self-professed "
Itsuwaribito
," a crook that practices all illicit trades. Still, this teen wants to help people. He travels with his talking
tanuki
, Pochi; a young physician who hates liars,
Dr. Koshiro Yakuma
; the refugee,
Neya Multo
; the mysterious
Hikae Nibyo
; and
Iwashi
, ruler of Ouna. They all help people, but Utsuho does so by being a liar.
Tanuki are raccoon dogs, and one of them, Pochi, is Utsuho's best pal. A man named
Ryubi
has decided to kill all the Tanuki in Pochi's village. As
Itsuwaribito

, Vol. 14
(Chapters 128 to 137) opens, two of Utsuho's companions,
Choza Habaki
and
Uzume
, have apparently joined Ryubi's cause. They are lured by Ryubi's partners, two women named
Mami
and
Lily
.
All is not what it seems, however, and Choza wants to know what is the story behind Ryubi before he fully commits to his cause. Meanwhile, Utsuho and what remains of his group are trying to find a way to avoid Mami and Lily's ability to control people after learning their names.
THE LOWDOWN:
The
Itsuwaribito
manga is ostensibly about a treasure hunt, but series creator,
Yuuki Iinuma
, makes practically every story arc something strange, new, and exciting. It's like Forrest Gump's box of chocolates: the reader never knows what he is going to get with his adventure.
Itsuwaribito Volume 14
has a dark undercurrent as it explores the power of charismatic people who uses their skills to manipulate others, even those who are not naive and desperate. I found this to be an exciting read, and every time I finished a chapter, I was especially curious about the next one. That is, of course, a good thing in a manga.
POSSIBLE AUDIENCE:
Fans of martial arts and of samurai comedies will want to try the Shonen Sunday title,
Itsuwaribito
.
Rating: A- /10
Last Updated: August 31, 2023 - 08:12