Claymore: Volume 25 manga review
By Leroy Douresseaux
November 6, 2014 - 18:08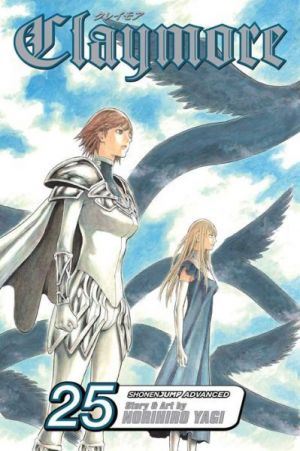 Claymore Volume 25 cover image is courtesy of barnesandnoble.com.
Follow me on
Twitter
.
Rated "T+" for "Older Teen"
On a mysterious, medieval island, humans contend with monsters called "
Yoma
." These monsters prey on humans and even live among them in disguise. The "
Claymores
," are a breed of female warriors named for the immense broadswords they use to battle the Yoma. They were created by the
Organization
as humanity's only hope. Half-human and half-monster, they have silver-colored eyes that allow them to see Yoma, and they possess the supernatural strength to fight and destroy them. However, they must keep their savage impulses in check, less they loss control and transform into monstrous creatures called "
Awakened Ones
."
As
Claymore

, Vol. 25
(entitled
Sword of the Dark Deep
– Chapters 138 to 143) opens, battles rage outside the holy city of
Rabona
. Demonic forces and outrageous monsters seek to destroy one another, the rebel Claymores, and Rabona. The monstrous
Priscilla
fights "one who surpasses an Abyssal One."
Meanwhile, the rebel Claymore,
Clarice
, plots to harmonize Yoma energy with fellow rebel, the troubled
Miria
, and "awaken" her. Is it possible to become an "Awakened One" and then, return to being a Claymore? The holy city of Rabona and a band of 11 Claymores hope so.
THE LOWDOWN:
A new reader could not come into the
Claymore
manga at this point in the series' publication and understand what is occurring in the story. Readers who have been following the series since Vol. 1 or closer to the beginning will always enjoy this violent, dark fantasy and shonen battle manga, with an emphasis on the violent.
In
Claymore Volume 25
, creator
Norihiro Yagi
teases more about the history and origins of both the Organization and the Claymores. What is the process that creates a Claymore? Is "awakening" a similar process for every Claymore? Plus, the mysterious mainland is mentioned. There is always a new crumb tempting readers to follow the trail.
Claymore
is a full-on battle manga for battle manga fans. Those who enjoy the savagery of powerful women chopping and hacking each other in visual media might also find this to taste.
POSSIBLE AUDIENCE:
Fans who like their battle manga with butt-kicking female characters will want the Shonen Jump Advanced title,
Claymore
.
Rating: A- /10
Last Updated: August 31, 2023 - 08:12