Claymore: Volume 15
By Leroy Douresseaux
October 24, 2009 - 13:58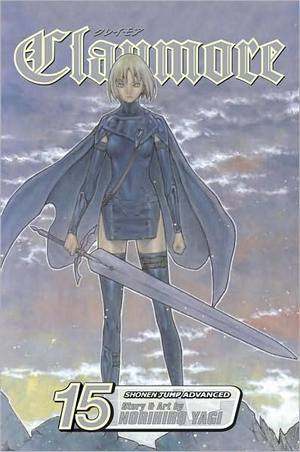 Claymore Volume 15 cover image is courtesy of barnesandnoble.com.
Rated "T+" for "Older Teen"
On a medieval-like world, there are monsters called "Yoma" that prey on humans and also live among them in disguise. "Claymores, a breed of female warriors named for the immense broadswords they use, are humanity's only hope. Half human and half monster, these silver-eyed warriors possess the supernatural strength to fight and destroy the Yoma, but they must keep their savage impulses in check. When a Claymore loses control, she transforms into a monstrous creature called an "Awakened One."
In Claymore, Vol. 15 (entitled Genesis of War), Clare and her comrades (the seven warriors said to have been destroyed in the Battle of the North) arrive in the Holy City of Rabona. There, they find the Claymore deserter, Galatea, and Clarice and her young charge, Miata, battling the Awakened former number 2, "Bloody" Agatha. The new arrivals turn the tide of battle, but one of them has a shocking tale to tell. Miria shares the results of her research and investigation into the history their bosses, the Organization, and she also reveals the true nature of the Yoma and of the Claymores themselves.
Also, the Claymore, Renée (#6) encounters Raki and Priscilla. Then, Renée finds herself in the clutches of the "Creature of the Abyss," Riful of the West.
THE LOWDOWN: The latest volume of Claymore remains "brutal, gruesome, horrific, and sexy," which is how I described the previous volume. I can imagine the many readers may be initially put off by the mix of hideous monsters and supernatural martial arts (as I was). The vicious and aggressive sword-wielding girls are a bit much, and there battles against the flesh-hungry, blood-stained Yoma and Awakened Ones (many of them also sexy girls) are not for the feint of heart. It is a testament to creator Norihiro Yagi's skills that the static images that make up this manga's graphic narrative "move" like a motion picture. Scaring the bejesus outta you is a great extra.
POSSIBLE AUDIENCE: The awesome Claymore is perfect for any action-luvin' manga reader.
A
Last Updated: August 31, 2023 - 08:12