Claymore: Volume 27 manga review
By Leroy Douresseaux
October 8, 2015 - 21:25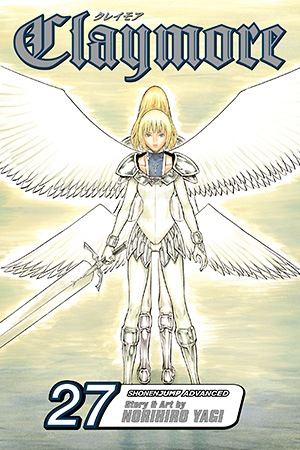 Claymore Volume 27 cover image
Rated "T+" for "Older Teen"
There is a mysterious, medieval island where humans contend with monsters called "
Yoma
." These monsters prey on humans and even live among them in disguise. The "
Claymores,
" are a breed of female warriors named for the immense broadswords they use to battle the Yoma. They were created by the Organization as humanity's only hope. Half-human and half-monster, they have silver-colored eyes that allow them to see Yoma, and they possess the supernatural strength to fight and destroy them. However, they must keep their savage impulses in check, or they can loss control and transform into monstrous creatures called "Awakened Ones."
As
Claymore

, Vol. 27
(entitled Silver-Eyed Warriors – Chapters 150 to 154 to "Last Scene") opens,
Captain Miria
leads a small contingent of Claymores against the monstrous Awakened One,
Priscilla
. Meanwhile, the rebel warrior,
Clare
, prepares to face Priscilla in a climactic final battle. However,
Teresa
, a former elite Claymore, has reawakened inside Clare, but is even her "strength beyond measure" enough to defeat Priscilla?
THE LOWDOWN:
October is like an "end of series" month. The final volume of
Naruto
is being published in North America this month. On that same release date, the
Claymore
manga sees the final volume of its English-language publication arrive.
Claymore Volume 27
is what one would expect from a brutal battle manga finale – mostly one long fight between two (in a way, three) beings with unimaginable power. However, it is not all sword hacking and slashing. Creator
Norihiro Yagi
takes the time to emphasize the Claymores' tragic situation. Well, it's girl power in the end. The battle is not over, but it will be fought on different terms. It is that element of tragedy and survival that brings some beauty to
Claymore
.
POSSIBLE AUDIENCE:
Fans who like their battle manga with butt-kicking female characters will have 27 volumes of the Shonen Jump Advanced title,
Claymore
, to discover or to re-read.
Rating: A- /10
Last Updated: January 24, 2022 - 11:00