Claymore: Volume 22 manga review
By Leroy Douresseaux
May 6, 2013 - 11:41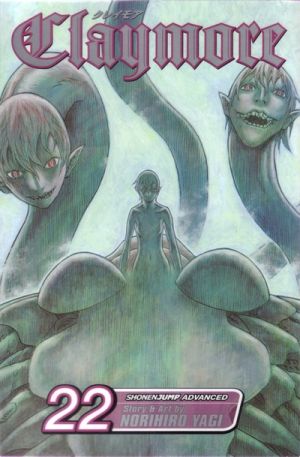 Claymore Volume 22 cover image
Rated "T+" for "Older Teen"
There is a mysterious, medieval island, where monsters called "Yoma" prey on humans and even live among them in disguise. "Claymores," are a breed of female warriors named for the immense broadswords they use. They were created by the Organization as humanity's only hope. Half-human and half-monster, these silver-eyed warriors possess the supernatural strength to fight and destroy the Yoma, but they must keep their savage impulses in check. When a Claymore loses control, she transforms into a monstrous creature called an "Awakened One."
As Claymore, Vol. 22 (entitled Claws and Fangs of the Abyss – Chapters 120 to 125) opens, Miria continues her quest to defeat the organization. To stop her, Dae, an evil Organization scientist, revives three former warriors who were each ranked "Number One." Now, they are monstrous Abyssal Ones. Before they can fight the Claymores, however, one of these Abyssal Ones, Cassandra, attacks another named Roxanne.
Meanwhile, the third Abyssal, Hysteria, becomes animated by blind vengeance and grows stronger. Miria cannot fight her alone. Enter the Rebel Claymores.
THE LOWDOWN: It has been about a year since I last read the Claymore manga, but my VIZ Media rep sent me a review copy of Claymore Volume 22. I had a chance to renew my love of the brutal and sexy Claymores. My love of battle manga has been well-documented over the course of hundreds of manga reviews, so, of course, I enjoy the constant "super girl" versus hoary monster battles that Claymore offers.
Vol. 22 encapsulates the darkness creator Norihiro Yagi unleashes in this manga. This was the first time I really noticed the disturbing sexual undercurrent that runs through this series. The design of the Yoma remind me of the work of H.R. Giger, but disturbingly fleshy in a different way. Add that to the constant violence and Claymore seems to be just a tad bit darker than the "T+ for Older Teens" rating suggests. I bet this would make a really good anime.
POSSIBLE AUDIENCE: Battle manga-loving readers will want the Shonen Jump Advanced title, Claymore.
Rating: A- /10
Last Updated: August 31, 2023 - 08:12