Claymore: Volume 24 manga review
By Leroy Douresseaux
May 9, 2014 - 17:29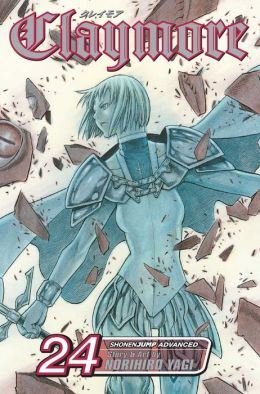 Claymore Volume 24 cover image is courtesy of barnesandnoble.com.
Follow me on Twitter:
Rated "T+" for "Older Teen"

Monsters called "Yoma" prowl a mysterious, medieval island. These monsters prey on humans and even live among them in disguise. The "Claymores," a breed of female warriors named for the immense broadswords they use, battle the Yoma. They were created by the Organization as humanity's only hope. Half-human and half-monster, these silver-eyed warriors possess the supernatural strength to fight and destroy the Yoma, but they must keep their savage impulses in check. When a Claymore loses control, she transforms into a monstrous creature called an "Awakened One."
As Claymore, Vol. 24 (entitled Army of the Underworld – Chapters 132 to 137) opens, Miria and the other rebel Claymores pursue the Abyssal One that was formerly Cassandra the Dusteater. The creature builds and coalesces outside the Holy City of Rabona.
Raki, a male human warrior, meets with Chronos and Lars, two of the last male warriors that existed before the female Claymores. They work on a defensive plan, but also have other plans in motion. Meanwhile, Priscilla, whose monstrous savagery was recently reawakened, attempts to absorb those she defeated in battle. A band of awakened beings, however, decide to fight her and believe they will be more successful in battling Priscilla than the Claymores.
THE LOWDOWN: The Claymore manga is a violent, dark fantasy fight comic with an emphasis on the violent. Creator Norihiro Yagi has an H.R. Giger-like art style and his work is likely every bit as imaginative as the famed surrealist.
However, there is more to Claymore than violence and striking visuals, as Claymore Volume 24 shows. Yagi gives the monstrous Priscilla a heartbreaking origin story or back story. This tragic tale of Priscilla's childhood breaks the monotony of the monster mash that this volume offers in creature fights.
POSSIBLE AUDIENCE: Fans who like their battle manga with butt-kicking female characters will want the Shonen Jump Advanced title, Claymore.
Rating: A- /10
Last Updated: August 31, 2023 - 08:12