Claymore: Volume 20 manga review
By Leroy Douresseaux
June 29, 2012 - 11:17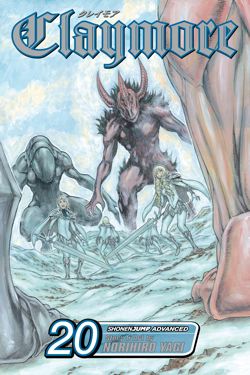 Claymore Volume 20 cover image is courtesy of Anime Castle Books.
Rated "T+" for "Older Teen"
On a mysterious, medieval island, monsters called "Yoma" prey on humans and even live among them in disguise. Created by the Organization, "Claymores," are a breed of female warriors named for the immense broadswords they use. They are humanity's only hope. Half-human and half-monster, these silver-eyed warriors possess the supernatural strength to fight and destroy the Yoma, but they must keep their savage impulses in check. When a Claymore loses control, she transforms into a monstrous creature called an "Awakened One."
As Claymore, Vol. 20 (entitled Remains of the Demon Claw) opens, the rebel Claymores: Deneve, Helen, and Yuma, return to the Holy City of Rabona and find it under attack by Yoma hordes. The trio joins Miata, Galatea, and Tabitha in routing the Yoma, but there is more shocking news. Galatea tells the rebels of the Claymore Miria's solitary quest to attack the Organization. Meanwhile, the powerful Anastasia leads Nike, Phina, Keira, and Deitrich against a horde of Awakened Ones, but there is something shocking about these creatures. Also, the machinations of the Organization become clearer.
THE LOWDOWN: It had been almost three years since I last read the Claymore manga, when VIZ Media sent me a review copy of the 20th volume. I discovered that the heroines (the Claymores) are still brutal and sexy, and the violence is remains gruesome and horrific, as ever. The action is attractive to the action junkie, and the conspiracy gets better which each chapter. The flesh-hungry, blood-stained Yoma and Awakened Ones are seriously scary. As I said before, creator Norihiro Yagi's style makes the static, graphic and illustrated image of a comic book seem to "move." That's a good thing in a series in which the good girls and the bad monsters are always fighting.
POSSIBLE AUDIENCE: Claymore is perfect for any battle manga-loving reader.
Rating: A- /10
Last Updated: August 31, 2023 - 08:12