Claymore: Volume 14
By Leroy Douresseaux
February 27, 2009 - 08:44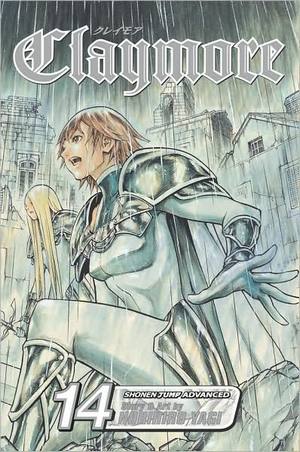 Claymore 14 cover image is courtesy of barnesandnoble.com.
Rated "T+" for "Older Teen"
On a medieval-like world, monsters called "Yoma," prey on humans and live among them in disguise. A breed of female warriors, called "Claymores," (named for the immense broadswords they use), are humanity's only hope. Half human and half monster, the Claymores are silver-eyed warriors that possess supernatural strength, but they must keep their savage impulses in check. For when a Claymore loses control, she transforms into a monstrous creature called an "Awakened One."
In Claymore, Vol. 14 (entitled A Child Weapon), Clarice and her young charge, Miata, on the orders of their bosses in the Organization, have tracked the deserter, Galatea, to the Holy City of Rabona. Ordered to kill Galatea, Clarice and Miata find something much worse in Rabona. Other stories in this volume recount Priscilla and Isley's first meeting, and also Clare's training at the Organization.
THE LOWDOWN: Brutal, gruesome, horrific, and sexy: those words all describe Claymore. Its mix of monsters, supernatural martial arts, vicious and aggressive sword-wielding girls, and flesh-hungry, blood-stained monsters (many of them also sexy girls) make this like Tite Kubo's Bleach, but with PMS. For some reason, Claymore reminds me of Dungeons & Dragons, and it certainly reminds me of TOKYOPOP's Warcraft comics with its art that looks like charcoal drawings. Although Claymore creator, Norihiro Yagi doesn't focus on character development, his focus on action sequences and breathtaking fight scenes are so good that I hardly notice my yearning to learn more about these claymore swinging chicks and their mega-monster adversaries. Too bad that the next volume isn't due until fall 2009.
POSSIBLE AUDIENCE: Guys who dig hot chicks that wear tight clothing and use big weapons to kill enemies will want more of the thrilling, awesome, kick-ass Claymore.
A
Last Updated: August 31, 2023 - 08:12