Claymore: Volume 23 manga review
By Leroy Douresseaux
September 27, 2013 - 16:55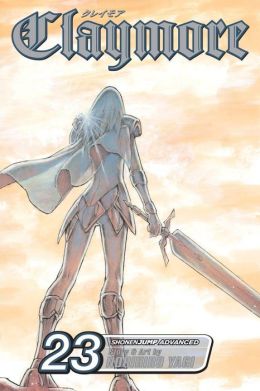 Claymore Volume 23 cover image is courtesy of barnesandnoble.com.
Rated "T+" for "Older Teen"
On a mysterious, medieval island, there are monsters called "Yoma" that prey on humans and even live among them in disguise. Battling the Yoma are the "Claymores," a breed of female warriors named for the immense broadswords they use. They were created by the Organization as humanity's only hope. Half-human and half-monster, these silver-eyed warriors possess the supernatural strength to fight and destroy the Yoma, but they must keep their savage impulses in check. When a Claymore loses control, she transforms into a monstrous creature called an "Awakened One."
As Claymore, Vol. 23 (entitled Mark of the Warrior – Chapters 126 to 131) opens, Miria with Helen and Deneve enter the Organization headquarters. There, Miria learns the secret origins of the Yoma.
Raki, a male human warrior, joins Miria and the other rebel Claymores, as he searches for Clare, a Claymore believed to be trapped inside a monstrous Abyssal One. Miria leads the Claymores to the Holy City of Rabona where there will be a few reunions. The city will also be the site of a battle between the Claymores and an Abyssal Ones and an Awakened Ones – some of which are familiar to the warriors.
THE LOWDOWN: Although I am a fan of battle manga, the Claymore manga, which is a violent, dark fantasy fight comic slash battle manga, was initially odd to me. Perhaps, it was the female warriors or their big swords (or both) that was off-putting to me. Creator Norihiro Yagi offered something different in hack and slash with his H.R. Giger-like art. Even the tone-everything-on-the-page art vexed me ... somewhat.
I just finished reading Claymore Volume 23, and I am ready for more. Claymore is something different, but the action and violence are as good as action and violence in comics featuring male characters. Yagi does not just tell a story; he unleashes it. Plus, the hoary monsters always keep things dark and interesting. The most interesting thing about the series, however, is the fate of each character. You can't help but wonder (and worry) about when (or if) a character will turn into a monster.
POSSIBLE AUDIENCE: Fans who like their battle manga with butt-kicking female characters will want the Shonen Jump Advanced title, Claymore.
Rating: A /10
Last Updated: August 31, 2023 - 08:12