Blue Exorcist: Volume 16 manga review
By Leroy Douresseaux
December 19, 2016 - 13:52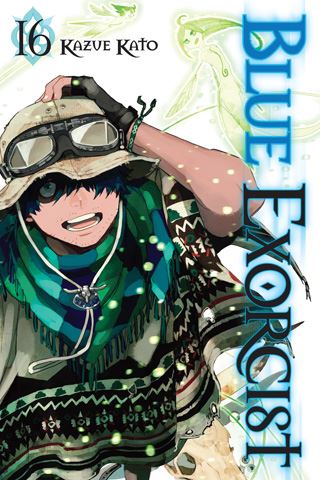 Blue Exorcist Volume 16 cover image
Rated "T+" for "Older Teen"
After an argument with his foster father, the famous exorcist, Father Fujimoto,
Rin Okumura
learns something shocking. The
Demon Lord Satan
is his father. Even after Satan suddenly appears and tries to drag him to hell, Rin is still determined to reject his demonic blood line. He enrolls at
True Cross Academy Private High School
, in order to train to become an exorcist. Rin's twin brother,
Yukio Okumura
, already an exorcist, will be his instructor.
Blue Exorcist

, Vol. 16
(Chapters 68 to 73) opens with Rin and company going to a public bath for some down time. Then, the focus returns to school as they meet their newest instructor,
Lighting Lewin
. Meanwhile, the
Round Table Council
meets to discuss the increased activity from
The Illuminati
. Plus,
Ryuji Suguro
learns the
Demon Matching Game
in his bid to become Lewis' apprentice, while one of their group is keeping a secret. Yukio is determined to test the strange fire that has recently been appearing in his eyes, but the tests are death-defying.
[This volume contains "Blue Exorcist Bonus."]
THE LOWDOWN:
I still think about the Harry Potter novels and films... to one extent or another when I read the
Blue Exorcist
manga. This manga often focuses on conspiracies at a school of the supernatural, with a magical boy at the center, and for now, this is my Harry Potter substitute.
Blue Exorcist Volume 16
is one of the better volumes. Creator
Kazue Kato
offers some light-hearted fun with the characters and development on character relationships. There are new developments in the series' internal mythology. This is one of the volumes that justifies readers' investment in this series. Magical-adventure-fantasy-action: you want
Blue Exorcist
.
I READS YOU RECOMMENDS:
Readers looking for dark magic and action will want to try the Shonen Jump Advanced title,
Blue Exorcist
.
A+
Rating: A+ /10
Last Updated: August 31, 2023 - 08:12