Blue Exorcist: Volume 13 manga review
By Leroy Douresseaux
May 27, 2015 - 22:31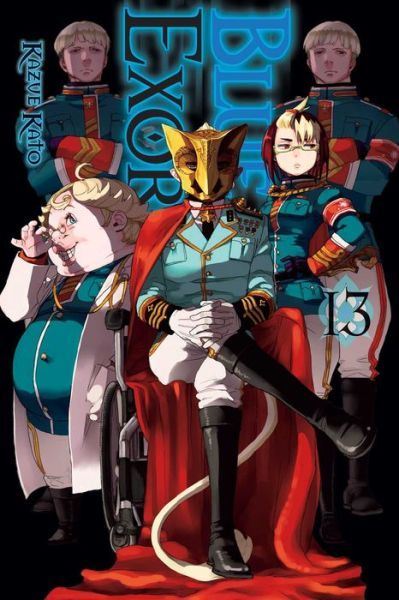 Blue Exorcist Volume 13 cover image is courtesy of barnesandnoble.com.
Rated "T+" for "Older Teen"
One day,
Rin Okumura
has an argument with Father Fujimoto, the famous exorcist who is his foster father. From that disagreement comes the revelation that the
Demon Lord Satan
is Rin's father. Even after Satan suddenly appears and tries to drag him to hell, Rin is still determined to reject his demonic blood line. He enrolls at
True Cross Academy Private High School
, in order to train to become an exorcist. Rin's twin brother,
Yukio Okumura
, already an exorcist, will be his instructor.
Yukio leads a team of Exwires: Rin,
Konkomaru Miwa
,
Ryuji Suguro
, and
Shiemi Moriyama
with
Kuro
and
Nemu
. They travel to Inari (in Shimane Prefecture), the home town of
Izumo Kamiki
, where they hope to rescue Izumo. Now, they will also learn the dark history of Izumo and her mother.
As
Blue Exorcist

, Vol. 13
(Chapters 53 to 57) opens, we learn how Izumo and her younger sister,
Tsukumo
, were separated and why.
Professor Michael Gedoin
, of the Far East Laboratory, planned to perform experiments in hopes that the two girls could replace their tragic mother,
Tamamo
, as host of Nine-Tails. In the present, Izumo does not want to be a kidnap victim, so she fights back, but will she be able to face the traitor who kidnapped her?
Meanwhile, Yukio, Rin, and the Exwires enter
Dream Town
, searching for the entrance to a massive lab complex beneath the town. They hope to find Izumo, but what they find is an unexpected horror, one that is very hungry. Meanwhile, Lord Lucifer awakens.
[This volume includes a bonus manga.]
THE LOWDOWN:
As I have previously written, the
Blue Exorcist
manga has been a comic fantasy about a teen boy with a cursed origin, a boy trying to find redemption or justification for his existence. At other times,
Blue Exorcist
has also been about a conspiracy at a school of the supernatural (with only a passing resemblance to the Harry Potter series).
In
Blue Exorcist Volume 13
, there are some comic moments, but the action, the magic, and the evil are all on full display. This volume is particularly good because it focuses on a clear motivation – rescue Izumo. Of course, there are subplots, flashbacks, and hints of future conspiracies and story lines, but the main story line is thrilling. When
Blue Exorcist
is good, it is fantastic, and Vol. 13 is just that – fantastic. I am ready for the next volume.
POSSIBLE AUDIENCE:
Readers looking for dark magic and action will want to try the Shonen Jump Advanced title,
Blue Exorcist
.
Rating: A+ /10
Last Updated: August 31, 2023 - 08:12