Blue Exorcist: Volume 17 manga review
By Leroy Douresseaux
August 16, 2017 - 10:28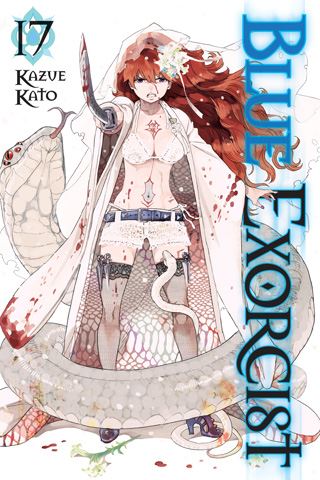 Blue Exorcist Volume 17 cover image
Rated "T+" for "Older Teen"
He had an argument with his foster father, the famous exorcist,
Father Shiro Fujimoto
. That is how
Rin Okumura
learned something shocking; the Demon Lord Satan is his father. Even after Satan suddenly appears and tries to drag him to hell, Rin is still determined to reject his demonic blood line. He enrolls at
True Cross Academy Private High School
in order to train to become an exorcist. Rin's twin brother,
Yukio Okumura
, already an exorcist, will be his instructor.
As
Blue Exorcist

, Vol. 17
(Chapters 74 to 78) opens,
Lord Mephisto Pheles
, President of True Cross, has a mission for the Okumura brothers. Rin and Yukio must travel to
Aomori Prefecture
, the last known location of one of their closest friends,
Shura Kirigakure
. The trip allows the brothers to talk and perhaps sort out where things stand between them. Meanwhile, Shura has arrived at her destination, where she will meet an ancient entity with a hold on her.
[This volume contains "Blue Exorcist Bonus."]
THE LOWDOWN:
I usually think about the Harry Potter novels and films... to one extent or another when I read the Blue Exorcist manga. This volume is mostly pure Japanese folklore and myth, featuring an incredible demon from the deep past.
Blue Exorcist Volume 17
, like Vol. 16, is one of the better volumes in this series. That is saying something good because this series is mostly very damn good. Creator
Kazue Kato
offers some light-hearted fun and brotherly squabbling, but the folkloric and fantastical angles of this story are the stars here. Vol. 17 is a fantastic entry in this graphic novel series, and it is actually a really good jump-on point for new readers. And new readers should be jumping on.
I READS YOU RECOMMENDS:
Readers looking for dark magic and action will want to try the Shonen Jump Advanced title,
Blue Exorcist
.
A
9 out of 10
Rating: 9 /10
Last Updated: August 31, 2023 - 08:12