VIZ Media Welcomes "Blue Exorcist" Creator Kazue Kato to Anime Expo
By The Editor
June 16, 2016 - 22:43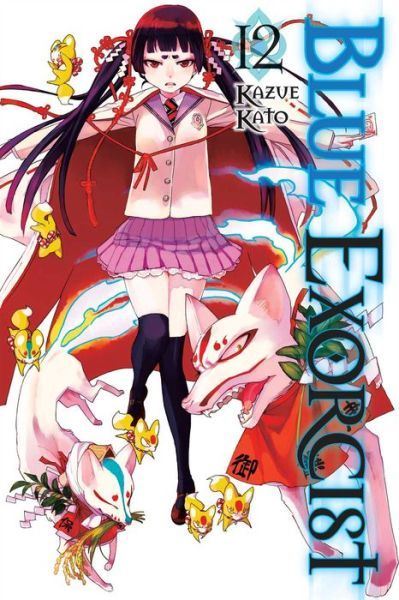 Blue Exorcist Volume 12 cover image
VIZ MEDIA WELCOMES BLUE EXORCIST MANGA CREATOR KAZUE KATO TO 2016 ANIME EXPO
Creator Of The Bestselling Paranormal Adventure Series Comes To North America's Largest Anime/Manga Convention To Meet Fans; Exclusives Will Available From VIZ Media Booth 2205
VIZ Media, LLC (VIZ Media), a premier company in the fields of publishing, animation distribution, and global entertainment licensing, teams with the 2016 Anime Expo to welcome famed manga creator and illustrator Kazue Kato as a special Guest of Honor at this year's event. The artist will make her first North American professional appearance by participating in a pair of insightful panel discussions and meeting fans in several autograph sessions.
The 2016 Anime Expo is the largest dedicated anime/manga fan convention in North America and takes place July 1st–4th at the Los Angeles Convention Center in Los Angeles, CA. Tickets and full details are available at: www.anime-expo.org. VIZ Media will be located on the main convention floor in Booth #2205.
Kazue Kato is the creator of the bestselling supernatural action manga series BLUE EXORICIST. The series is published in print and digital under VIZ Media's Shonen Jump Advanced imprint (rated 'T+' for Older Teens), and the latest monthly chapters are available digitally in the English version of WEEKLY SHONEN JUMP. Copies of the series, her anthology, TIME KILLERS: KAZUE KATO SHORT STORY COLLECTION, and a special exclusive full-color art book, BLUE EXORCIST COLOR COLLECTION, will be available for purchase from VIZ Media throughout the convention.
Kazue Kato will kick off her series of personal appearances on Friday, July 1st with a special autograph session** beginning at 7:00pm at the Barnes & Noble store located at The Grove, located at 189 The Grove Drive, Los Angeles, CA 90036. The signing will be limited to the first 100 customers who purchase a Kazue Kato title at that location on July 1st, who will receive a wristband for a guaranteed spot to meet the author at the autograph session later that day and receive an exclusive shikishi art board. **Note – this appearance is not affiliated with Anime Expo
Kazue Kato VIZ Media/Anime Expo Panels & Special Events Include:
Saturday, July 2nd
11:00am – 12:00pm: WEEKLY SHONEN JUMP Presents Kazue Kato - LACC Room 403AB / Room LP-2
Join Weekly Shonen Jump and Anime Expo in welcoming the creator of the beloved BLUE EXORCIST manga, Kazue Kato! Kato Sensei makes her first North American appearance, and she will discuss her career and creative process, as well as answer questions about her work.
TBD Time: Kazue Kato Autograph Session - Anime Expo Autograph Signing Area
Don't miss your chance to meet Kazue Kato and receive a personally signed shikishi art board. Those interested to attend must pick up an autograph ticket prior to the session at the Anime Expo Autograph Ticket Booth on the day of the appearance. For more information, please visit:
www.anime-expo.org/how-to-get-an-autograph.
Sunday, July 3rd
2:15pm – 3:15pm: Aniplex of America Presents: Blue Exorcist - 5th Anniversary Panel Featuring Kazue Kato - Petree Hall / LP-1
Join Aniplex to celebrate the 5th Anniversary of the fan-favorite anime series, Blue Exorcist! Show your love for the Okumura brothers and enjoy this fun filled panel featuring must-see bloopers, fan favorite countdowns, exclusive giveaways, a very special announcement and much more!
TBD Time: Kazue Kato Autograph Session - Anime Expo Autograph Signing Area
An encore opportunity to meet Kazue Kato, and get a personalized shikishi art board!
Also stop by the VIZ Media booth (#2205), located in the Anime Expo Main Hall, to browse a vivid array of Kazue Kato retail items available for purchase. Notable products to be offered include:
BLUE EXORCIST Full-Color Replica Art Print – $210
Imported straight from Japan as a North American exclusive!
Framed & matted
BLUE EXORCIST Mug – $15
Imported straight from Japan as a North American exclusive!
Features the entire series cast, depicted chibi-style!
BLUE EXORCIST COLOR COLLECTION - $10
A special art book, created exclusively for Kato's Anime Expo visit!
Features 32 pages of full-color art from the series
BLUE EXORCIST Vol. 1 and 15 – $10 each
Start the manga, or catch the newest volume of the hit manga series!
Comes with an exclusive BLUE EXORCIST button set
TIME KILLERS: KAZUE KATO SHORT STORY COLLECTION – $12
o Also comes with an exclusive BLUE EXORCIST button set!
Manga creator and illustrator Kazue Kato was born in Tokyo on July 20. In 2000, she won the prestigious Tezuka Award for her work Boku to Usagi (The Rabbit and Me) published in Akamaru Jump. From 2005 to 2006 her series Robo to Usakichi, a sci-fi adventure featuring a rabbit (again!) was published in the monthly magazine Shonen Sirius (Kodansha). Her latest series, Blue Exorcist, began in Jump Square in April of 2009, and is also a hit anime series.
In the BLUE EXORCIST manga series, raised by Father Fujimoto, famous exorcist, Rin Okumura never knew his real father. One day a fateful argument with Father Fujimoto forces Rin to face a terrible truth – the blood of the demon lord Satan runs in Rin's veins! Rin swears to defeat Satan, but doing that means entering the mysterious True Cross Academy and becoming an exorcist himself. Can Rin fight demons and keep his infernal bloodline a secret? It won't be easy, especially when drawing his father's sword releases the demonic power within him!
For additional information on BLUE EXORCIST and other anime and manga titles distributed and published by VIZ Media, please visit www.VIZ.com.
Last Updated: August 31, 2023 - 08:12