Blue Exorcist: Volume 12 manga review
By Leroy Douresseaux
November 19, 2014 - 21:23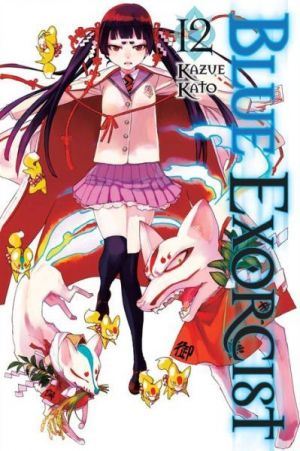 Blue Exorcist Volume 12 cover image is courtesy of barnesandnoble.com.
Follow me on
Twitter
.
Rated "T+" for "Older Teen"
Rin Okumura
has an argument with Father Fujimoto, the famous exorcist who is his foster father. The disagreement reveals that the
Demon Lord Satan
is Rin's father. Even after Satan suddenly appears and tries to drag him to hell, Rin is still determined to reject his demonic blood line. He enrolls at
True Cross Academy Private High School
, in order to train to become an exorcist. Rin's twin brother,
Yukio Okumura
, already an exorcist, will be his instructor.
Blue Exorcist
, Vol. 12 (Chapters 48 to 52) opens as the
True Cross Academy Festival
reaches it peak. The "Tamer,"
Izumo Kamiki
, seeks out fellow student
Nemu Takara
, a puppet master who can summon and control dolls. However, Izumo's confrontation with Nemu reveals a plot by the Illuminati, an old order that recently has been connected to incidents involving demons.
Now, Yukio Okumura leads a team of Exwires: Rin (his brother), the aforementioned Nemu,
Konkomaru Miwa
,
Ryuji Suguro
, and
Shiemi Moriyama
. They travel to
Inari
(in Shimane Prefecture), Izumo's home town. Now, they will also learn the dark history of Izumo and her mother.
THE LOWDOWN:
At times, the
Blue Exorcist
manga has been a comic fantasy about a teen boy with a cursed origin, trying to find redemption or justification for his existence. At other times,
Blue Exorcist
has also been about a conspiracy at a school of the supernatural (with only a passing resemblance to the
Harry Potter
series).
Blue Exorcist Volume 12
moves deeper into a new story arc involving a big conspiracy. It promises to be some of
Blue Exorcist
creator
Kazue Kato
's best work. All these students and their family tragedies remind me a little of Naruto, which is to say that
Blue Exorcist
is a very good read and a fantastic series to follow.
POSSIBLE AUDIENCE:
Readers who like the heady brew of shonen action-comedy and fantasy will want to try the Shonen Jump Advanced title,
Blue Exorcist
.
Rating: A /10
Last Updated: January 24, 2022 - 11:00