Blue Exorcist: Volume 15 manga review
By Leroy Douresseaux
April 26, 2016 - 21:34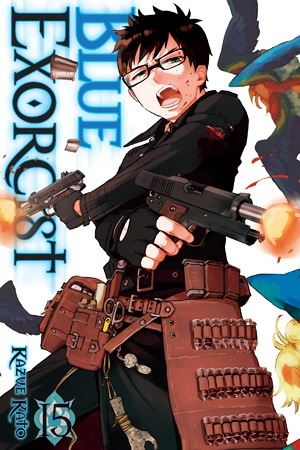 Blue Exorcist Volume 15 cover image
Rated "T+" for "Older Teen"
After an argument with Father Fujimoto, the famous exorcist who is his foster father,
Rin Okumura
learns something shocking. The Demon Lord Satan is his father. Even after Satan suddenly appears and tries to drag him to hell, Rin is still determined to reject his demonic blood line. He enrolls at
True Cross Academy Private High School
, in order to train to become an exorcist. Rin's twin brother,
Yukio Okumura
, already an exorcist, will be his instructor.
Blue Exorcist

, Vol. 15
(Chapters 63 to 67) opens in the aftermath and cleanup of the operation against
Professor Gedoin
's diabolical dream town, Inari.
Izumo Kamiki
meets her sister, but discovers that things cannot be as she hoped. Plus, the truth about
Renzo Shima
, the supposed
Illuminati
spy, is revealed to Rin and company.
In the "Pink Spider," story arc, Rin, Yukio,
Konkomaru Miwa
,
Ryuji Suguro
,
Shiemi Moriyama
, Izumo, and Shima find themselves whisked away from class. Suddenly, they are before
Sir Pheles Mephisto
and the cult figure,
Lewin "Lightning" Light
. It is time for an interrogation about who, what, when, where, and maybe whom. Plus, Renzo knows something about Yukio.
THE LOWDOWN:
When reading the
Blue Exorcist
manga, I sometimes find myself thinking about the
Harry Potter
novels and films... to one extent or another. This manga often focuses on conspiracies at a school of the supernatural, with a magical boy at the center.
Blue Exorcist Volume 15
wraps up the most recent Inari-centered conspiracy-melodrama. Creator
Kazue Kato
immediately launches into several more, but that is what makes
Blue Exorcist
worth following, at least for me. There is never a dull moment for those who want more intrigue than battle in their battle manga.
POSSIBLE AUDIENCE:
Readers looking for dark magic and action will want to try the Shonen Jump Advanced title,
Blue Exorcist
.
A
Rating: A /10
Last Updated: August 31, 2023 - 08:12