Bakuman: Volume 20 manga review
By Leroy Douresseaux
August 6, 2013 - 17:28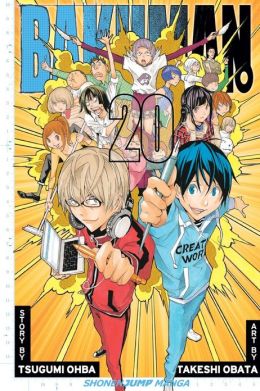 Bakuman Volume 20 cover image is courtesy of barnesandnoble.com.
Rated "T" for "Teen"
Moritaka Mashiro and Akito Takagi meet in middle school. Mashiro loves to draw. Takagi is an aspiring writer, who discovers Mashiro's talent. Takagi convinces Mashiro that they should unite to create manga. Working under the penname, "Muto Ashirogi," the boys achieve success over the next decade by getting their manga published in the magazine, Weekly Shonen Jump. The duo's newest series is Reversi. How long can these two young men make it in the manga-publishing world?
A decade ago, two young men set about to create manga. One of them, Mashiro, promised a fellow student, Miho Azuki, that he would marry her when both their dreams came true. His was to create a manga that would be adapted into an anime, and hers was to be the voice actress who would play the lead role in that anime.
Bakuman, Vol. 20 (entitled Dreams and Reality – Chapters 169 to 176 – the final chapter) opens with dreams imperiled. Miho takes to the radio to address the scandal that threatens to destroy her career and possibly Muto Ashirogi's.
Muto Ashirogi's latest manga hit, Reversi, is being adapted into an anime series. Miho seemed destined to play the role of Reversi's female lead, Naho Minadori, until a controversy. Now, the audition for the part will be broadcast live and has been turned into an Internet contest with a fan vote determining which actress wins the part. Will Miho win the part of Naho, and if she does, will that mean that Mashiro and Miho's dreams will finally and completely come true? Are there wedding bells in their future?
THE LOWDOW: The Bakuman (stylized as Bakuman。) manga has reached its final volume. There is a happy ending, but Bakuman Volume 20 offers both the present and hints about the future, without going into every detail. This is sort of "make your own happy endings and assumptions," and that is a good thing.
This is the way of Bakuman's creators, writer Tsugumi Ohba and artist Takeshi Obata, the masterminds behind the Death Note manga. Ohba offers fiction, but plays so close to reality. Visually, Bakuman's storytelling belies its realist streak. Obata's quirky graphic style suggests the fantastic and surreal nature of cartoons, but his draftsmanship plays it straight. It is as if Bakuman's masterminds want to say that this series is true – in a manner of speaking.
Bakuman is one of the great recent works of insider fiction, and is likely the best workplace comic book ever produced. I highly recommend Bakuman and look forward to reading it again.
POSSIBLE AUDIENCE: Readers looking for superb comic books will want to read the Shonen Jump title, Bakuman.
Rating: A+ /10
Last Updated: August 31, 2023 - 08:12