Bakuman: Volume 12 manga review
By Leroy Douresseaux
July 23, 2012 - 17:05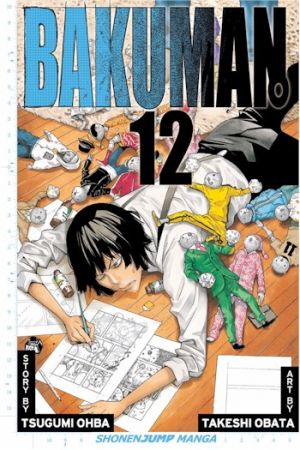 Bakuman Volume 12 cover image is courtesy of barnesandnoble.com
Rated "T" for "Teen"
Akito Takagi and Moritaka Mashiro meet in high school. Takagi is an aspiring writer. Mashiro likes to draw. Takagi begs Mashiro to join him in creating a manga. They become the manga-creating known as "Muto Ashirogi." They eventually get their own manga published in the magazine, Weekly Shonen Jump. After having two series cancelled, however, do these young men have what it takes to make it in the manga-publishing world?
As Bakuman, Vol. 12 (entitled Artist and Manga Artist) opens, we learn the origins of Aiko Iwase's intense feelings for Takagi. Meanwhile, Muto Ashirogi's new series, Perfect Crime Party (PCP) grows in popularity. Now, PCP takes its first steps in becoming a media franchise, but will it ever become an anime series? Meanwhile, one of Takagi and Mashiro's assistants, Shun Shiratori, makes moves to get his own series. How can Takagi help, especially when Shun's well-to-do, highly-respectable family objects to him being involved in a lowbrow art form like manga?
THE LOWDOWN: With each volume, the Bakuman (stylized as Bakuman。) manga gets better. As I've said before, it is my second favorite ongoing manga, after Naruto.
Bakuman offers a fictionalized and idealized account of what it takes to produce manga for a major Japanese publisher. This 12th volume offers the opportunity to begin at the proverbial "ground floor" as readers can follow Shun Shiratori's odyssey. Not only does he create his own manga series, but he must also battle his family. The conflict between him and his family, especially his mother, and the aftermath of that conflict is a compelling tale of the obstacles a budding young comic book creator faces.
POSSIBLE AUDIENCE: Readers looking for top notch shonen will want Bakuman.
Rating: A /10
Last Updated: August 31, 2023 - 08:12