Bakuman: Volume 16 manga review
By Leroy Douresseaux
November 18, 2012 - 14:27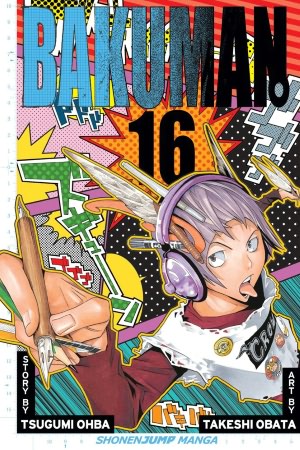 Bakuman: Volume 16 cover image is courtesy of barnesandnoble.com.
Rated "T" for "Teen"
Moritaka Mashiro the average high school student who liked to draw and Akito Takagi the aspiring writer unite to create manga. The boys achieve success by getting their manga published in the magazine, Weekly Shonen Jump. After having two series cancelled, this duo, working under the penname, "Muto Ashirogi," create its longest-running hit, PCP: Perfect Crime Party. Do these young men have what it takes to make it in the manga-publishing world?
As Bakuman, Vol. 16 (entitled Rookie and Veteran) opens, a long-held promise comes to light. Manga prodigy and Muto Ashirogi rival, Eiji Nizuma, made a deal with the Editor-in-Chief of Shonen Jump. If Eiji's manga, Crow, was first place in the Shonen Jump readers' poll for ten consecutive weeks, then, Eiji could cancel any series in Shonen Jump he chose. The agreement comes to light, and Eiji reveals his choice for cancellation. Now, Ashirogi and the other manga creators must stop him.
THE LOWDOW: Of course, the Bakuman (stylized as Bakuman。) manga is still really good. It is one of my favorite comic books, and I continue delight in the way that it continues to surprise me. The story arc involving Eiji Nizuma's desire to cancel a series plays like a battle manga. In fact, it is as exhilarating to read as a battle manga, and I tore through that story. And as soon as that storyline was resolved, creators Tsugumi Ohba and Takeshi Obata unleashed another percolating storyline. Let's call it "old guys rising," and I can't wait for the next volume.
POSSIBLE AUDIENCE: Readers looking for superb comic books will want to read the Shonen Jump title, Bakuman.
Rating: A /10
Last Updated: August 31, 2023 - 08:12