Bakuman: Volume 17 manga review
By Leroy Douresseaux
January 13, 2013 - 12:09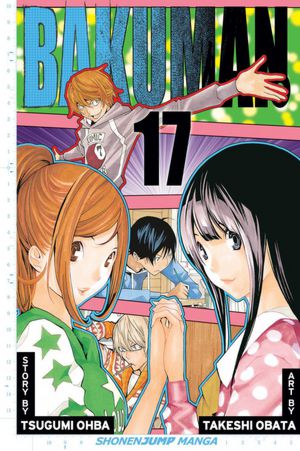 Bakuman Volume 17 cover image is courtesy of barnesandnoble.com.
Rated "T" for "Teen"
Moritaka Mashiro, an artist, and Akito Takagi, an aspiring writer, unite to walk the rough path of manga. Working under the name, "Muto Ashirogi," the boys achieve success by getting their manga published in the magazine, Weekly Shonen Jump. After having two series cancelled, the duo creates its longest-running hit, PCP: Perfect Crime Party. Do these young men have what it takes to make it in the manga-publishing world?
As Bakuman, Vol. 17 (entitled One-Shot and Stand Alone – Chapters 143 to 151) opens, Tohru Nanamine is back in the spotlight with more schemes to (1) be the best manga artist around, (2) conquer Weekly Shonen Jump, and (3) defeat Muto Ashirogi. His latest plot comes out of the Shinjitsu Corporation, his company that is basically a manga-producing factory. Now, that Nanamine is revealed, he doesn't need some of the artists he used.
That includes Mikihiko Azuma, a former assistant and friend of the late Taro Kawaguchi, Mashiro's uncle and a manga artist. With the help of Muto Ashirogi's editor at Weekly Shonen Jump, Akira Hattori, Azume attempts to overcome Nanamine's machinations. Meanwhile, Muto Ashirogi plans a special stand-alone story of PCP in order to except a challenge from Nanamine.
THE LOWDOW: The Bakuman (stylized as Bakuman。) manga is one of the best insider works of fiction that I have experienced. Writer Tsugumi Ohba and artist Takeshi Obata (the creators of the manga, Death Note) have created the idealized account of the manga industry, specifically the corner that Weekly Shonen Jump occupies.
They use an ensemble cast, character drama, and workplace comedy to tell stories about ambition, rivalry, friendship, dedication, loyalty, professionalism, and, of course, the creative drive. The struggle between the goals of the artist and the objectives of the business is usually only this interesting when it's depicted in journalism about business entertainment. Here, a great comic book gets into the business of art.
POSSIBLE AUDIENCE: Readers looking for superb comic books will want to read the Shonen Jump title, Bakuman.
Rating: A /10
Last Updated: January 24, 2022 - 11:00