Bakuman: Volume 10 Manga Review
By Leroy Douresseaux
April 7, 2012 - 15:02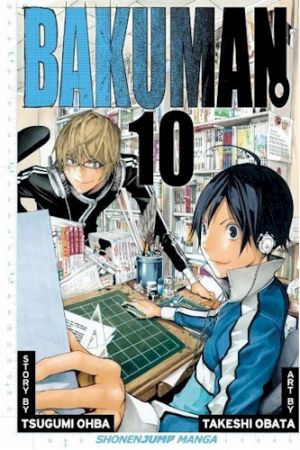 Bakuman Volume 10 cover image is courtesy of Anime Castle Books.
Rated "T" for "Teen"
Aspiring writer Akito Takagi discovers that his high school classmate, Moritaka Mashiro, who is an average student, enjoys drawing for fun. Akito begs Moritaka to team-up with him to form a manga-creating duo. Taking the penname, "Muto Ashirogi," the two young creators eventually get their own manga published in the manga magazine, Weekly Shonen Jump. After having two series cancelled however, do these young men have what it takes to make it in the manga-publishing world?
As Bakuman, Vol. 10 (entitled Visualization and Imagination) opens, Akito and Moritaka are feeling the pressure. They have to submit a proposal for a third series to Jump, but if it fails, they will be banned from the magazine… forever! Jump editor Yujiro Hattori joins Muto Ashirogi's editor, Goro Miura, in an attempt to inspire Muto Ashirogi. When Akito and Moritaka decide to spy on their editorial duo, they unintentionally discover a budding romance and also get the inspiration for a manga series that just might save their Jump careers.
THE LOWDOWN: I now recognize Bakuman (stylized as Bakuman。) as my second favorite manga that is currently being produced after (Lord) Naruto (praise his name). There is a lot to like about the Bakuman manga. The characters are engaging, and while much of this series is about the struggle to both create a comic book and to survive in that marketplace, there is also drama and melodrama surrounding the characters.
The stellar art from Takeshi Obata ably captures all aspects of this series. His drawing style is a mixture of realism and of that clean method of figure drawing that is perfectly suited for animation. Plus, Obata is a master of the graphical storytelling medium, so his comics are usually engaging, if not gripping.
POSSIBLE AUDIENCE: Readers looking for top notch shonen will want Bakuman.
A
Last Updated: August 31, 2023 - 08:12