Bakuman: Volume 11
By Leroy Douresseaux
June 9, 2012 - 16:16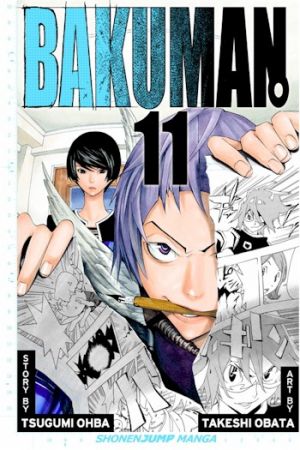 Bakuman Volume 11 cover image is courtesy of Anime Castle Books.
Rated "T" for "Teen"
Akito Takagi and Moritaka Mashiro meet in high school. Aspiring writer Takagi begs Mashiro, who loves to draw for fun, to join him in creating a manga. They become a manga-creating duo and use the penname, "Muto Ashirogi." They eventually get their own manga published in the magazine, Weekly Shonen Jump. After having two series cancelled however, do these young men have what it takes to make it in the manga-publishing world?
As Bakuman, Vol. 11 (entitled Title and Character Design) opens, Takagi and Mashiro not only struggle to come up with a name for their new manga, but also have trouble coming up with names for the characters. Meanwhile, Miho Azuki, Mashiro's girlfriend, is preparing to audition for a voice role in a new anime series. However, the anime is based on +Natural, a manga created by Takagi and Mashiro's rivals, Eiji Nizuma and Miss Akina. Will Azuki take the job? Will Mashiro try to stop her?
THE LOWDOWN: Recently, I announced to you, dear readers, that Bakuman (stylized as Bakuman。) was my second favorite manga that is currently being produced after Naruto. The 11th volume of Bakuman makes me love the series even more. This insider manga will be of interest to anyone who loves manga.
This is a fictionalized and idealized account of what it takes to create manga for a major publisher, but the series emphasizes character relationships more than it does the behind-the-scenes secrets. Writer Tsugumi Obha puts obstacles in front of his characters, and conflict, to one degree or another, is a constant in their lives. Ohba has mastered the mix of character drama and melodrama, giving this series a unique style.
Artist Takeshi Obata, who worked with Ohba on Death Note, is a master of many drawing styles. He always seems to have the perfect graphic style for whatever genre in which he works. That shows here. Not only must Obata visualize the characters and story, but he must also visualize the various manga series depicted in Bakuman. His mastery of multiple styles comes into play when drawing the manga of many genres – from fantasy and battle manga to tales of adventurous high school students.
Ohba and Obata make their tale set in the world of big-time manga publishing seem really real.
POSSIBLE AUDIENCE: Readers looking for top notch shonen will want Bakuman.
Rating: A /10
Last Updated: August 31, 2023 - 08:12