Bakuman: Volume 19 manga review
By Leroy Douresseaux
July 2, 2013 - 15:59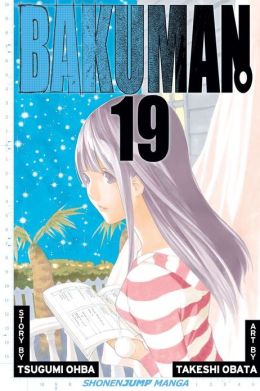 Bakuman Volume 19 cover image is courtesy of barnesandnoble.com.
Rated "T" for "Teen"
They meet in middle school. Moritaka Mashiro is an artist. Akito Takagi is an aspiring writer. Takagi convinces Mashiro that they should unite to create manga. Working under the name, "Muto Ashirogi," the boys achieve success by getting their manga published in the magazine, Weekly Shonen Jump. The duo's newest series is Reversi. How long can these two young men make it in the manga-publishing world?
As Bakuman, Vol. 19 (entitled Decision and Joy – Chapters 161 to 168) opens, Takagi and Mashiro meet with their Weekly Shonen Jump editor to plot the course of Reversi. Reversi is number one in the reader surveys, but Zombie Gun, the new series from manga prodigy, Eiji Nizuma, is far ahead of Reversi in graphic novel sales. And Nizuma aims to keep it that way.
There is a rivalry between Nizuma and Muto Ashirogi, and that gets more intense as Weekly Shonen Jump's editors decide between Reversi and Zombie Gun, which is to be the next series from the magazine to become an anime series. Meanwhile, a harmless comment creates an intense scandal on the Internet. The scandal threatens to destroy Muto Ashirogi and someone close to them.
THE LOWDOW: The Bakuman (stylized as Bakuman。) manga has reached its penultimate volume. Bakuman Volume 19 proves once against that the series is one of the best insider works of fiction, if not the best, ever published as a comic book. Of course, Bakuman is an idealized and dramatized depiction of two young artists having quite a bit of success actually in manga publishing.
Bakuman success is based not so much that it is a workplace comedy and drama, but rather that it is about engaging characters in riveting stories of ambition, rivalry, friendship, dedication, loyalty, professionalism, and, of course, the creative drive. It is so light-hearted that its intensity is surprising, but Bakuman's creators are Tsugumi Ohba and Takeshi Obata, the masterminds behind Death Note. They can turn the most surprising concepts, topics, and genres into high drama.
POSSIBLE AUDIENCE: Readers looking for superb comic books will want to read the Shonen Jump title, Bakuman.
Rating: A+ /10
Last Updated: February 5, 2023 - 09:06