Bakuman: Volume 14 manga review
By Leroy Douresseaux
October 17, 2012 - 15:59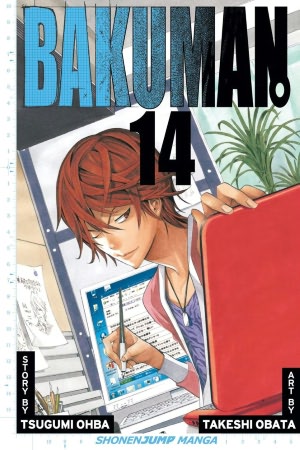 Bakuman Volume 14 cover image is courtesy of barnesandnoble.com.
Rated "T" for "Teen"
Akito Takagi the aspiring writer meets Moritaka Mashiro, who likes to draw, in high school. Akito convinces Mashiro to join him in creating manga, and the boys achieve success by getting their manga published in the magazine, Weekly Shonen Jump. After having two series cancelled, this duo, which works under the penname, "Muto Ashirogi," creates its longest-running hit, PCP: Perfect Crime Party. Do these young men have what it takes to make it in the manga-publishing world?
As Bakuman, Vol. 14 (entitled Mind Games and Catchphrases) opens, Moritaka and Akito are reading an entry in the "Treasure Award" manga contest. Both like "The Classroom of Truth," but they think that it seems strangely familiar. Then, they learn that the creator of this entry is one of their most ardent fans, Tohru Nanamine. What will take them longer to discover is Nanamine's mysterious plans and his controversial methods of creating manga.
THE LOWDOW: Of course, I have to say it again: Every time I read the Bakuman (stylized as Bakuman。) manga, it seems to get better. I have read some ambitious projects this year (Building Stories) and some exceptional superhero comics (Batman: Earth One and The Judas Coin). However, Bakuman is my current pick for best comic book of the year, although the material contained in Volume 14 was first published in Japan four years ago.
Why did this volume shoot to the top for me? First, there is the usual, superb character writing by Tsugumi Ohba; which makes the lives, conflicts, and desires of the characters seem genuine. Secondly, there is artist Takeshi Obata, a master at composition and at fitting style and pace to capture the setting, plot, and mood at any point in the story.
The tipping point here is the story arc that dominates Vol. 14. The rise of Tohru Nanamine covers so much ground in regards to the world of publishing and creating manga. What is ethical when it comes to how one creates manga? Is there a point at which what a creator does violate some unwritten rules in his relationship with his readers. What is ethical, and what is legal?
I think these questions arise whenever art, creativity, and entertainment merge with business. Suddenly, there are products and markets and there are rules of the game.
POSSIBLE AUDIENCE: Readers looking for great comic books will want to read Bakuman.
Rating: A+ /10
Last Updated: February 5, 2023 - 09:06