Comics / Spotlight / Progressive Panels
Harbor Moon
By Andy Frisk
Jan 28, 2011 - 11:21
Gothic literature (commonly referred to as the gothic novel or simply gothic), according to A Handbook to Literature is a work where "magic, mystery, and chivalry are the chief characteristics…combining horror, crime, romance, and realism." Plenty of classical works of gothic literature abound, but there are few modern examples of the genre that really live up to the description of being literary. Some of Anne Rice's novels, certain works by Stephen King, and the tales of John Ajvide Lindqvist are some of the scant few examples of contemporary gothic literature that come to mind. (No, I'm sorry Twilight isn't literature…). There are plenty of scary books out there, and plenty of books that seem gothic, like the fantastic Dresden Files novels by Jim Butcher—which are very well written, thoughtful and fun escapist/adventure novels, but in order to really be gothic literature, there really has to be some sort of enlightening theme or (as clichéd as this term has become) profound ideal. Remember, Mary Shelley's Frankenstein, a true example of classic gothic literature that has been bastardized and regurgitated over the years so many times it has been stripped of its profundity, was subtitled The Modern Prometheus. While popular culture has been overrun with teen-pop heartthrob vampires and werewolves like those on parade in the aforementioned Twilight series whose reason for existence is seemingly solely to tantalize angsty teenage girls, true gothic literature does still exist. Even more importantly, gothic literature has thrived in mediums outside that of the novel or film. Sequential art offers a very healthy amount of gothic literature that is very unique in form with regards to the origins of the genre in the novel. While there are some really poor examples of what one would call "gothic" sequential art (like Dark Ivory by Joseph Michael Linsner), there are other works like Harbor Moon by Ryan Colucci, Dikran Ornekian, and Pawl Sambor that forego the pop sensibilities and instead focus on the literature in gothic literature, and do so excellently.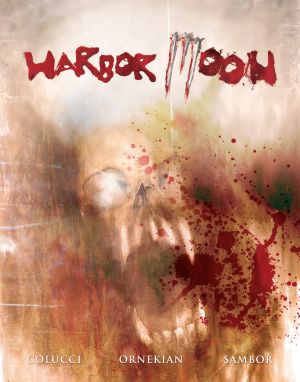 Harbor Moon is the story of Tim Vance, a veteran of three tours in Iraq, who never knew his father or mother and suddenly, after returning home from his time in the service, is contacted by a man named Andrew O'Callaghan who claims to be his father. His quest to uncover his roots and his familial identity leads him to the small rural Maine town of Harbor Moon. It's a reclusive town full of inhabitants that are hostile to outsiders. There is a very good reason why the townsfolk stick to themselves though, the entire town is populated by werewolves who simply want to be left alone and live their lives to the fullest without being persecuted. For the most part, and for several decades, they have succeeded. There is always the threat that they'll be discovered though. The Brotherhood of The Moon, a paramilitary-like organization dedicated to the eradication of the werewolf species, is always on their trail. With the arrival in Harbor Moon of Vance, a mysterious stranger, and the return of the wayward son of Harbor Moon's Sherriff, Patrick, the quiet seclusion of the haven that is Harbor Moon is placed in serious jeopardy.
Topically, the story of Harbor Moon appears to be not so different in tone and subject of my favorite teen-goth punching bag, the Twilight series. Granted there are no glittering vampires, but there is a town of clannish werewolves who are hiding in plain sight. Vance, who discovers that Harbor Moon is potentially the home he never had, does find love with the town's school principal and music teacher, and there is a healthy dose of familial conflict and reconcilement. It is all in the execution though, and Colucci, Ornekian, and Sambor do a fantastic job of taking what could have been an idea for a trite goth-tween drama and making it into gothic literature of the a new and unique kind: the sequential art kind.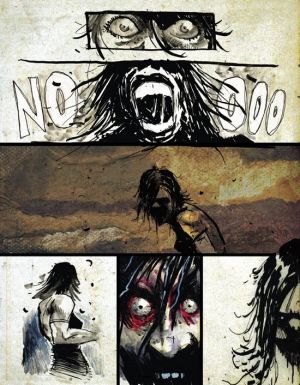 To begin with, Harbor Moon tackles the theme of identity, personal and communal, in an intelligent way much like Let Me In tackles the nature of good, evil, and love or Mary Shelley's Frankenstein tackles the nature loss of innocence, the nature of man, and the dangers of playing God. The metaphor of lycanthropy is used to designate a group that feels secluded from society at large and seen as a threat to the status quo like immigrants, minorities, foreigners, or any group that can be considered "The Other." Using horror or supernatural elements to illuminate a rather commonplace and relevant theme or idea in a unique way is a hallmark of gothic literature. Could Vance's story have been told, recasting him as an illegal immigrant or member of a minority group or religion, without resorting to supernatural themes? Of course, but such a story might itself be considered trite or too preachy. Disguising an important theme in the cloak of popular gothic horror and sequential art was a much better way for Colucci and company to go.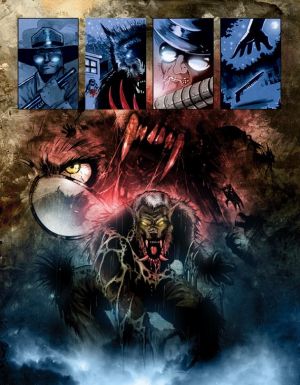 Speaking of the sequential art, while I've been fast and loose with the comparisons to Frankenstein and Let Me In, Harbor Moon is not a novel in any real sense. It does meet the criteria of being a graphic novel though, which basically involves the same amount storytelling as a regular novel. The storytelling is simply done visually through hand drawn and painted artwork. Harbor Moon tells its story quite deftly in the hands of artist Pawl Sambor. Foregoing horror pop sensibilities, Sambor crafts a setting and atmosphere reminiscent of the moody setting of an early X-Files episode (another example of gothic literature actualized in cinematic form). Sketchy background details (usually something that I abhor) and heavily painted shadows set the tone magnificently, as if the reader is constantly attempting to pierce the darkness and mystery surrounding the town and its inhabitants. Sambor's art powerfully highlights the theme of mystery and discovery that is central the story of Harbor Moon. Rarely does Sambor give us a complete view of the werewolves that populate the town of Harbor Moon. This goes a long way in leaving the horror up to our imaginations, and our imaginations are far worse than anything visualized on the printed page.
Harbor Moon rightfully will take its place with the greats of sequential art gothic literature. It's a work packed full of interesting and relevant themes that uses the metaphor of "The Other" in the extreme to tell a familiar story in a new way. That's the goal of art (as my readers have oft seen me argue), and Harbor Moon succeeds grandly in this aspect.
Rating: 10 /10
Last Updated: Jun 26, 2018 - 9:28