Bleach: Volume 26
By Leroy Douresseaux
February 24, 2009 - 19:17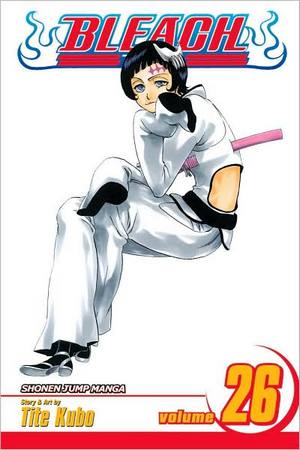 Bleach 26 cover image is courtesy of barnesandnoble.com.
Rated "T" for "Teen"
Ichigo "Strawberry" Kurosaki certainly never asked to be born with the ability to see ghosts, but this ability led to his meeting a young woman named Rukia Kuchiki. She changed his life forever when she introduced him to the world of the Soul Reapers. Now, Ichigo is also Reaper, cleansing lost souls called Hollows and protecting the innocent.
As Bleach, Vol. 26 (entitled The Mascaron Drive) opens, Ichigo continues his training with the Vizards in hopes of learning to control his Hollowfied self – his inner Hollow. Orihime Inoue is determined to be of assistance to the Soul Reapers, using her healing power, and she also meets a Vizard who is like her. As the Soul Society awaits the coming war with the traitorous Soul Reaper, Sôsuke Aizen, his collaborators, the Arrancars return, and Ichigo gets another shot at Grimmjow Jeagerjaques.
THE LOWDOWN: One of the very best action, fantasy, fight comics on the planet, Bleach never disappoints. It's like Naruto and Frank Miller's Daredevil on steroids. It's such a thrilling read, and manga-ka Tite Kubo's energetic, hyper art is captivating. The characters are so damn good! The heroes are as endearing as they can be, but the villains are some truly brutal, evil sons-of-bitches.
POSSIBLE AUDIENCE: Readers of shonen manga who want to be addicted to a particular manga as if it were crack will love them some Bleach.
A
Last Updated: June 23, 2021 - 00:45