Bleach: Volume 68 manga review
By Leroy Douresseaux
November 4, 2016 - 23:10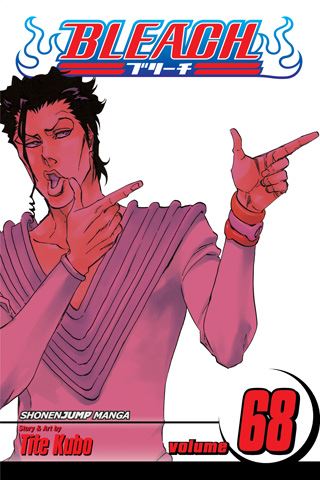 Bleach Volume 68 cover image
Rated "T" for "Teen"
Ichigo "Strawberry" Kurosaki
was born with the gift that is the ability to see ghosts. This gift, which he did not want, did introduce Ichigo to the world of the
Soul Society
. After his family was attacked by a Hollow, a malevolent lost soul, Ichigo became a
Soul Reaper
. He dedicated himself to protecting the innocent from tortured spirits and to helping those spirits find peace.
As
Bleach

, Vol. 68
(entitled
The Ordinary Peace
– Chapters 612 to 622) opens,
Yhwach
and his
Quincy
army (the Stern Ritters) continue their invasion of the Soul Society. They are kicking some Soul Reaper butt, and Yhwach has targeted his final move as the destruction of
Reio
, which in turn will lead to the destruction of everything... everything.
Jushiro Ukitake
makes a move to save everything, something he has been planning for a long time. A traitor, however, is among the Soul Reapers. Now,
Captain Shunsun Kyoraku
decides that to fight evil with evil is not necessarily evil and turns to a most shocking evil to help the Soul Society.
THE LOWDOWN:
The
Bleach
manga is a visually striking graphic narrative, but it can seem repetitive, visually and graphically, after a few volumes. How does
Tite Kubo
keep things freshly striking and strikingly fresh? He throws in a surprise.
Bleach Volume 68
offers a doozy or two or three in the way of surprises. Someone is connected to the Quincy enemies, and someone else is a Quincy enemy. Wow! But that ain't all; it's a secret, though. I can't tell you. The story is to be sold, not told, and Bleach is worth paying to be told.
I READS YOU RECOMMENDS:
Readers looking for exceptional battle manga are already readers of the Shonen Jump star title,
Bleach
.
A
Rating: A /10
Last Updated: January 24, 2022 - 11:00