Bleach: Volume 57 manga review
By Leroy Douresseaux
June 30, 2013 - 17:28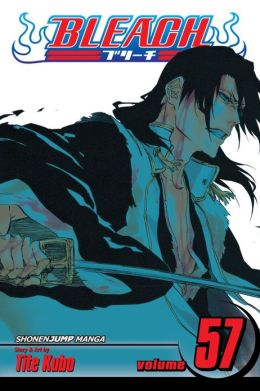 Bleach Volume 57 cover image is courtesy of barnesandnoble.com.
Rated "T" for "Teen"
Ichigo "Strawberry" Kurosaki never asked for the ability to see ghosts, but he uses this "gift" he didn't want to kick evil spirit ass. After meeting Rukia Kuchiki, he discovers the world of the Soul Society and becomes a Soul Reaper. He is dedicated to protecting the innocent from tortured spirits and to helping those spirits find peace. Ichigo eventually defeats the dark ambitions of renegade Soul Reaper, Lord Sôsuke Aizen.
Bleach, Vol. 57 (entitled Out of Bloom – Chapters 500 to 509) opens, the Quincies continue their full scale invasion of the Soul Society. This is part of a plot by the Vanden Reich (Invisible Empire), a group of Quincies. At first, it seemed that no Soul Reaper can stop them, but now the tide of battle has turned.
Here, he comes to save the day! Ichigo Kurosaki is on the way. Not quite – he's trapped in Hueco Mundo. Now, General Shigekuni Yamamoto, the boss of the Soul Society, enters the fray. He takes on the Vanden Reich leader, Yhwach, in a personal conflict that is thousands of years old. But the resulting battle might destroy everyone and everything.
THE LOWDOWN: The content of the Bleach manga often seems repetitive. However, I think displaying passion and fun in storytelling is the kind of ditto that more comic books need and more often.
Bleach explodes with energy, which makes it one of the most invigorating reads I have experienced in comic books. I often wonder if Bleach creator Tite Kubo is a shut-in. I think that only an artist or creative type who is quiet and withdrawn has the energy reserves to unleash Bleach's kind of fervor in storytelling.
POSSIBLE AUDIENCE: Readers looking for the exceptional battle manga will want the Shonen Jump star title, Bleach.
Rating: A+ /10
Last Updated: August 31, 2023 - 08:12