Bleach: Volume 60 Advanced manga review
By Leroy Douresseaux
March 26, 2014 - 17:18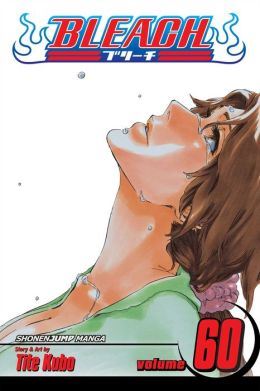 Bleach Volume 60 cover image is courtesy of barnesandnoble.com.
Rated "T" for "Teen"
Ichigo "Strawberry" Kurosaki was born with a gift – the ability to see ghosts. He discovers the world of the Soul Society after his family is attacked by a Hollow, a malevolent lost soul. Ichigo becomes a Soul Reaper and dedicates himself to protecting the innocent from tortured spirits and to helping those spirits find peace. Ichigo eventually defeats the dark ambitions of renegade Soul Reaper, Lord Sôsuke Aizen, and also foils an attempt to steal his own powers.
Bleach, Vol. 60 (entitled Everything But the Rain – Chapters 531 to 540) opens with an origin story concerning Ichigo. We learn how his father, a Soul Reaper named Isshin Shiba, met his mother, Masaki Kurosaki, a Quincy. It begins when a Quincy does the unthinkable, help a Soul Reaper in a battle against a Hollow. There is, of course, a cost to pay for this help, and it leads to the truth about Ichigo.
Dark secrets about the even darker past of Yhwach, leader of the Quincies, are revealed. Plus, meet The Sword Five.
THE LOWDOWN: The Bleach manga can seem repetitive: visually and graphically. Individual graphic novels sometimes feature one long fight scene, often between the same two combatants. There are consecutive volumes that seem to feature the same battle, merely because you think you've been reading about the same fight over and over and over again.
However, each volume of Bleach, no matter how much it might resemble another chapter or another volume, actually has its own voice – its own thing to say about the story of a young man caught in a conflict that existed long before he existed. Bleach Volume 60 is my favorite kind of Bleach: origin story or history lesson. Bleach has lots of history lessons, with each being its own thing or its own story – ownstory.
Creator Tite Kubo has a gift for storytelling in the medium of manga. The more things look the same, the more likely there is something new or different. The story is alive, vital, and bracing. That keeps readers coming back.
POSSIBLE AUDIENCE: Readers looking for the exceptional battle manga will want the Shonen Jump star title, Bleach.
Last Updated: August 31, 2023 - 08:12